I was writing some time ago that one of the best traits of Japan is the combination of old and new… in many areas. Here's an example of architecture and materials.
Established in 628, the Senso-ji Temple from Asakusa is the oldest temple in Tokyo. The today's main building was rebuilt in 1958 and the last renovation took place just last year, when the temple received a roof made of aerospace material, titanium.
Why such an investment? Titanium is resistant to corrosion and at the same time is very light. So the weight of the roof was diminished to 1/8 of the traditional clay tiles roof and the whole building became more earthquake resistant.
But what is truly remarkable is that there are no discrepancies between the new roof and the old building - it even looks… weathered (they carefully matched roofing tiles to achieve this effect).
P.S. Before you ask, the photo is not HDR…
Click on photo for higher resolution: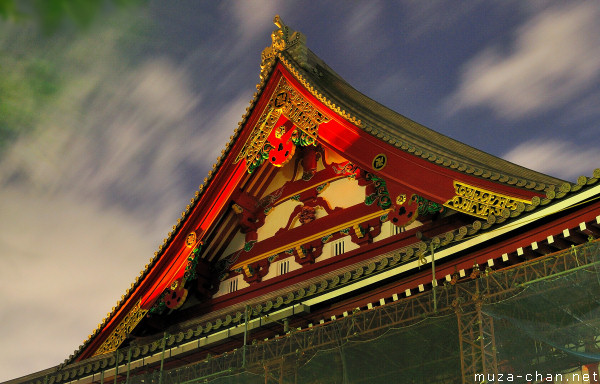 Senso-ji Temple, Asakusa, Tokyo
If you want to license my photos for commercial use, please
contact me
EXIF Info:
| | |
| --- | --- |
| | Nikon D90 |
| | Lens: VR 18-55mm F/3.5-5.6G |
| | Focal Length: 26mm |
| | Aperture: F/6.3 |
| | Shutter Speed: 6s |
| | ISO Sensitivity: ISO 200 |
| | |
| --- | --- |
| | Yesterday's Japan Photo: |