Japan offers a great number of beautiful scenic places and, over time, the Japanese people selected them, creating top lists like the famous "Three Great Gardens of Japan" (Nihon Sanmeien) or the "Three Views of Japan" (Nihon Sankei). But there are also larger lists, like the "100 Famous Japanese Mountains" (Nihon Hyaku-meizan) 「日本百名山」.
The first selection of mountains, called "A collection of maps and pictures of famous Japanese mountains", was made during the Edo Period by Tani Bunchō, a samurai known as a painter and a poet. His collection included 90 mountains and developing his idea, in 1964 Kyūya Fukada published Nihon Hyaku-meizan, a list of 100 mountains selected to be taller than 1,500 meters, having a great history and a spectacular beauty.
Of course, Mount Fuji is the first mountain that comes to mind when speaking about Japan, but here's another beautiful mountain: Mount Bandai, Aizu Bandai-san 「会津磐梯山」, nicknamed Aizu-Fuji because of its shape that reminds of Fuji, affectionately called the "treasure of Aizu" in an old song from the Fukushima area.
Click on photo for higher resolution: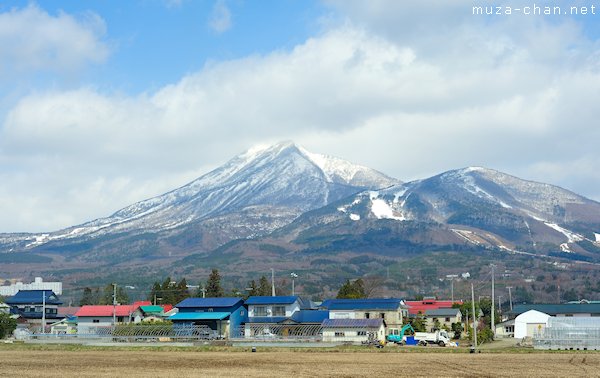 Mount Bandai, Aizu
If you want to license my photos for commercial use, please
contact me
EXIF Info:
| | |
| --- | --- |
| | Nikon D700 |
| | Lens: 24-70mm F/2.8G |
| | Focal Length: 50mm |
| | Aperture: F/7.1 |
| | Shutter Speed: 1/1000s |
| | ISO Sensitivity: ISO 250 |
| | |
| --- | --- |
| | Yesterday's Japan Photo: |