One of the main tourist attractions from Tokyo, the Senso-ji complex draws many visitors who come to admire the spectacular Five-story Pagoda and the majestic Main Hall, which enshrines a legendary Bodhisattva Kannon statue, found by two fishermen in the Sumida River in the year 628.
Inside the same complex, to the right of the Main Hall and marked with stone torii, is located one of the most famous Shinto shrines from Tokyo, the Asakusa Shrine. Over the years, I noticed that many foreign tourists are almost ignoring it - a mistake not made by the Japanese visitors… However, it is true that during the last years, the Shrine's premises were always occupied by the some renovation equipments. Designated as National Important Cultural Property by the Japanese government and featuring a typical old Edo architecture, the shrine is also one of the very few buildings still in the original form, having survived to the WWII bombings…
Built by Tokugawa Iemitsu in 1649, about 100 years after the establishment of the Senso-ji Temple, the Asakusa Shrine is locally known as Sanja-sama, the "Shrine of the Three Gods", because here are enshrined three men: Hinokuma Hamanari and Hinokuma Takenari, the two fishermen who found the Bodhisattva Kannon statue and Hajino Nakatomo, the landlord who built the first shrine dedicated to Kannon.
Click on photo for higher resolution: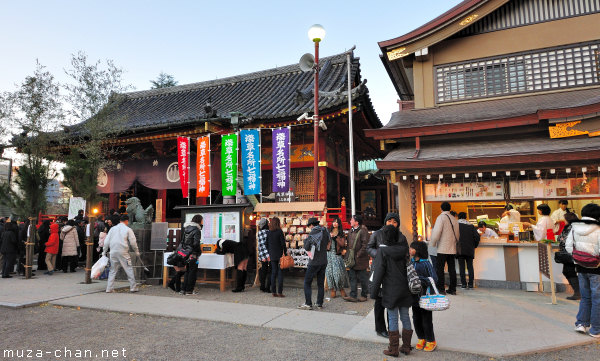 Senso-ji Asakusa Shrine
If you want to license my photos for commercial use, please
contact me
EXIF Info:
| | |
| --- | --- |
| | Nikon D90 |
| | Lens: 8-16mm F/4.5-5.6G |
| | Focal Length: 14mm |
| | Aperture: F/5.6 |
| | Shutter Speed: 1/60s |
| | ISO Sensitivity: ISO 400 |
| | |
| --- | --- |
| | Yesterday's Japan Photo: |