Kappa, the "river child", is one of the most popular fantastic creatures from the Japanese folklore. It is said to have humanoid shape, sometimes with a shell on the back, having the height of a teenage child, with yellow or green reptilian skin and with a kind of water dish on top of the head. It is said that if the kappa looses that water it loses its powers and can even die.
Living in the rivers, the kappa are generally considered malevolent creatures, kidnapping children and horses. But there are also exceptions: here's an old story from Tokyo…
The area of Asakusa known today as Kappabashi was originally a frequently flooded area. Someday, a merchant named Kappaya Kihachi started building a channel to drain the water to the nearby river, but the construction stalled for a long time. The legend says that the project was finished with the help of a kappa, whose life was saved by the merchant.
As thanks, a temple dedicated to the kappa was built and today the whole street has adopted kappa as a mascot. And there's even an imposing golden life-size statue, greeting the visitors…
Click on photo for higher resolution: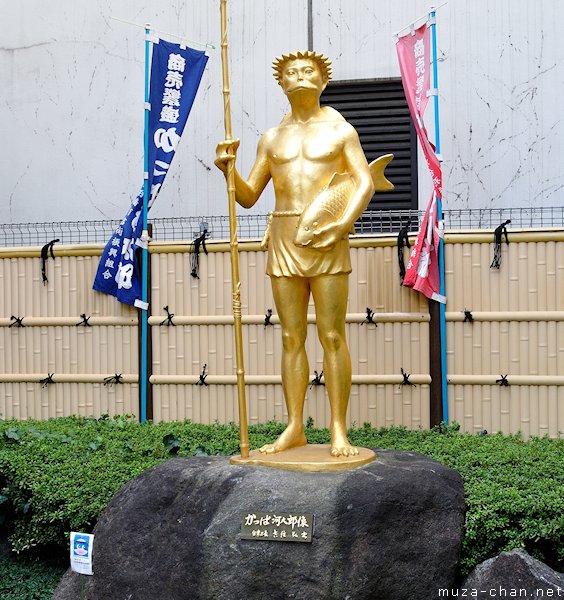 Kappa statue, Kappabashi-dori, Asakusa, Tokyo
If you want to license my photos for commercial use, please
contact me
EXIF Info:
| | |
| --- | --- |
| | Nikon D90 |
| | Lens: VR 18-55mm F/3.5-5.6G |
| | Focal Length: 20mm |
| | Aperture: F/5.6 |
| | Shutter Speed: 1/100s |
| | ISO Sensitivity: ISO 200 |
| | |
| --- | --- |
| | Yesterday's Japan Photo: |