The way from the Kamakura Station to the Tsurugaoka Hachimangu Shrine is marked by three torii gates: Ichi no Torii (first gate), Ni no Torii (second gate, the one from this picture) and San no Torii (third gate).
Between the second and the third torii, there is an alley called Dankazura 「段葛」, bordered by hundreds of sakura trees. This alley dates back to 1182, when it was built by Minamoto no Yoritomo to pray for the safe birth of his child and has an interesting feature: when going from the third gate (near the shrine) towards the second gate, you'll notice that the alley slowly becomes wider.
This was not a construction error, it was planned that way so when looking from the shrine, Dankazura will seem longer than it actually is.
Click on photo for higher resolution: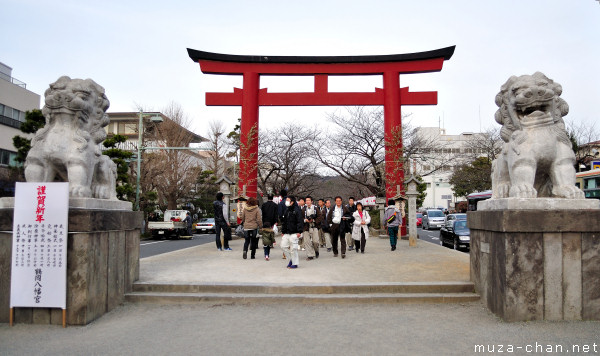 Tsurugaoka Hachimangu, Ni no Torii, Kamakura
If you want to license my photos for commercial use, please
contact me
EXIF Info:
| | |
| --- | --- |
| | Nikon D90 |
| | Lens: VR 18-55mm F/3.5-5.6G |
| | Focal Length: 18mm |
| | Aperture: F/5.6 |
| | Shutter Speed: 1/500s |
| | ISO Sensitivity: ISO 200 |
| | |
| --- | --- |
| | Yesterday's Japan Photo: |