The Daigyo-ji Temple from Kamakura is related to a chilling ghost story that took place around the year 1243.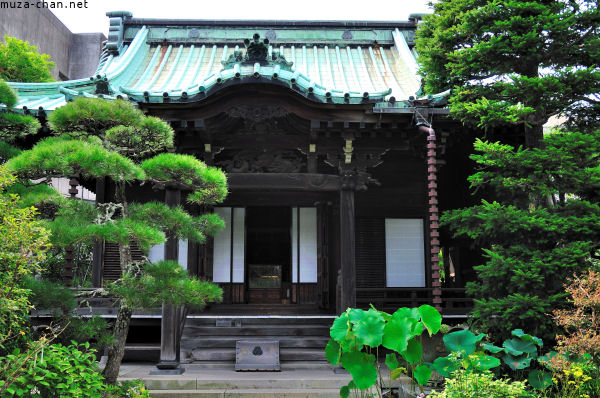 According to the story, the ghost of a young woman was haunting the shores of the Nameri river, close to the Daigyo-ji Temple. The people were scared and even tried to leave the district, because those who were unlucky enough to meet the ghost were struck by bad luck and some of them fell sick.

A priest named Nitto, who used to cross the river every day, heard this from the local people and, one night, when he was returning home late, he saw a young woman, with hair in disarray, with the kimono smeared with blood and with a baby in her arms, standing on the shores of the river.
The woman told him that she was the wife of Akiyama Kageyu and that she died at childbirth, together with her child. Now, she was trying to cross the river, but whenever she tried, after a few steps, the child was getting too heavy and she couldn't move forward.

The priest wanted to help her and told her to try crossing the river while he was chanting a sutra. The woman entered in the water, but she still couldn't cross the river. She asked the priest to carry her baby to the other side of the river. Nitto agreed, he took the baby and, chanting the sutra loudly, he crossed the river, but when he arrived, he was holding only a few withered leaves, not the baby, who was back into the arms of the woman.

Then he told her to quickly try again, and chanted the sutra even louder. Finally the woman reached the other side of the river, and she just disappeared.

After a few days, the priest dreamed a woman who thanked him for his help and gave him a brocade bag with a piece of gold.
The next day, Nitto visited Kageyu Akiyama and showed him the bag. Akiyama told him that his wife and child died indeed several weeks ago and he acknowledged that the bag belonged to his wife.

Later, Nitto built at the Daigyo-ji Temple a shrine for the woman and her child, praying for easy childbirth for all pregnant women.
Since then, the ghost was never seen again…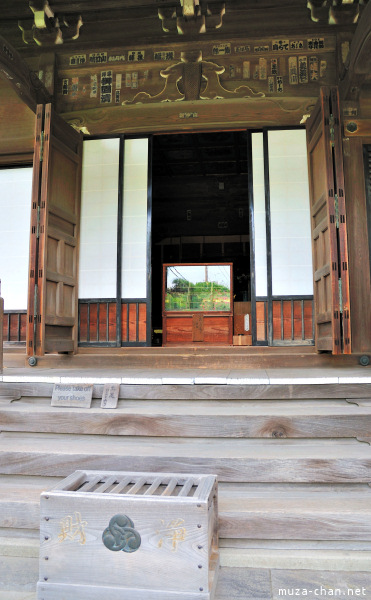 Today, people come to the Temple to pray to Onme-sama, the goddess of childbirth. The statue of the goddess is enshrined at the Temple and it is displayed once a year, on April 8th, on Hana Matsuri, the Buddha's Birthday.
Also, at the Temple, pregnant women can receive help and advice from a pediatrician.