Although it is a reconstructed castle and its architecture is not very attractive compared to the original Japanese castles, for fun or learning the Kokura castle is one of the best in Japan.
Photographed here is one of its attractions, a small theatrical play about a samurai strategy meeting in Kokura castle, played by life-sized mechanical dolls.
Inspired by a painting, it presents the meeting between the lord of the Kokura castle, Ogasawara Tadazane (middle) and his main vassals (among which we can see front-left Miyamoto Yori, the adopted son of Miyamoto Musashi) before joining the armies gathered to suppress the Shimabara Rebellion.
Click on photo for higher resolution: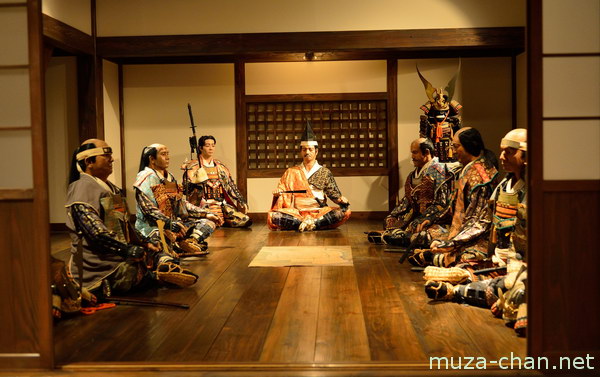 Kokura Castle, Kitakyushu
If you want to license my photos for commercial use, please
contact me
EXIF Info:
| | |
| --- | --- |
| | Nikon Df |
| | Lens: 24-70mm F/2.8G |
| | Focal Length: 24mm |
| | Aperture: F/3.2 |
| | Shutter Speed: 1/60s |
| | ISO Sensitivity: ISO 2000 |
| | |
| --- | --- |
| | Yesterday's Japan Photo: |