Located a little north of Kyoto, Mount Kurama is, in the Japanese tradition, one of the mythical places inhabited by tengu, one of the best known youkai monsters, worshiped as minor Shinto gods (kami).
One of the most interesting Japanese stories about tengu took place on this mountain, about 800 years ago. The story is also the subject of a Noh play, Kurama Tengu and was represented in a famous ukiyo-e by Kunitsuna Utagawa, Ushiwakamaru training with the tengu of Mount Kurama.
Minamoto no Yoshitsune (Ushiwakamaru) was only one year old when his father, Minamoto no Yoshitomo, was killed by the rival Taira clan, during the Heiji Rebellion. The baby was then sent at the temple from Mount Kurama, Kurama-dera, where he was raised by monks. Growing up, he started to train by himself, day by day, in the woods, hoping to become strong enough to avenge his father's death.
That way he drew the attention of Sōjōbō, the tengu king, said to have the power of 1000 tengu. Sōjōbō taught him the arts of swordsmanship, tactics and magic, and this is how Minamoto no Yoshitsune became an expert swordsman.
The presence of the tengu is also marked by this spectacular statue representing a red face, long-nosed tengu, displayed right next to the Kurama Station.
Click on photo for higher resolution: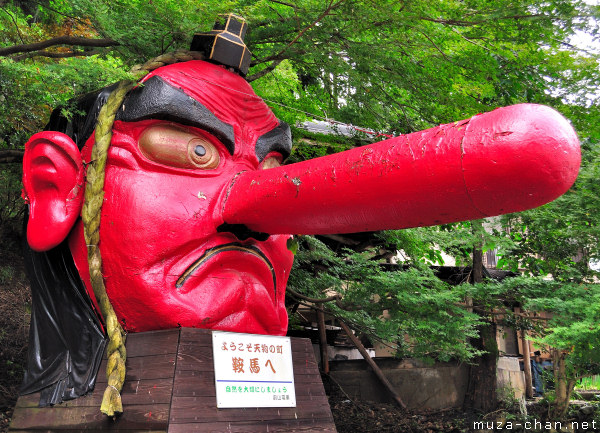 Tengu Statue, Kurama
If you want to license my photos for commercial use, please
contact me
EXIF Info:
| | |
| --- | --- |
| | Nikon D90 |
| | Lens: VR 18-55mm F/3.5-5.6G |
| | Focal Length: 24mm |
| | Aperture: F/5.6 |
| | Shutter Speed: 1/40s |
| | ISO Sensitivity: ISO 200 |
| | |
| --- | --- |
| | Yesterday's Japan Photo: |