The Nagoya Castle was built by shogun Tokugawa Ieyasu in 1612, and remained in the possession of the Owari lineage of the Tokugawa family until the Meiji Restoration, when its last owner decided to donate the two golden shachi to the Imperial Household, and the castle was planned for demolition. Fortunately, the plan wasn't carried out immediately, because a military garrison was set up on the castle's grounds.
Finding out that the castle was about to be demolished, the German diplomatic representative, Max von Brandt, decided to use his influence to save the castle. He found support from colonel Nakamura Shigeto, an important officer from the Ministry of the Army, and as a result, the imperial war minister, Yamagata Aritomo, decided to preserve the castle. It is believed that the Himeji Castle was also saved because of these interventions, and there's even a statue of Nakamura Shigeto in Himeji…
Unfortunately, a large part of the Nagoya Castle was destroyed during the WWII. The main donjon (photographed here) was rebuilt in 1959, and the reconstruction of the former palace still continues and is projected to be finished in 2018.
Click on photo for higher resolution: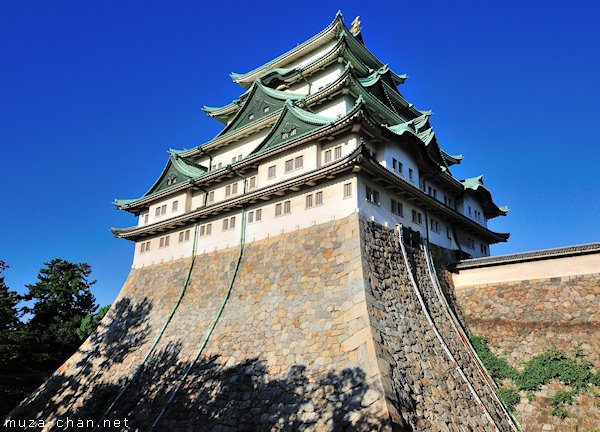 Nagoya Castle, Nagoya
If you want to license my photos for commercial use, please
contact me
EXIF Info:
| | |
| --- | --- |
| | Nikon D300 |
| | Lens: 8-16mm F/4.5-5.6G |
| | Focal Length: 16mm |
| | Aperture: F/7.1 |
| | Shutter Speed: 1/1600s |
| | ISO Sensitivity: ISO 250 |
| | |
| --- | --- |
| | Yesterday's Japan Photo: |