Some of the most beautiful legends from Japan are related to dragons living in lakes or rivers, especially when there's a temple or a shrine nearby. One of the oldest is this story from Asakusa:
More than 1300 years ago, the area around the Senso-ji Temple was wild and swampy, almost unpopulated, with only a small fishing village on the shores of the Sumida river. The legend says that one night, a large forest with 1000 pine trees suddenly appeared near the temple. And three days later, a giant golden dragon descended from the sky and disappeared inside the pine forest…
The dragon was never seen again, but is still honored today with a spectacular festival, Kinryu-no-Mai, the Golden Dragon Dance, in which a giant, 30 meters long dragon, moved by 70 men, is dancing in front of the temple. And inside the Asakusa Station there's also a beautiful mural mosaic representing this impressive dance…
Travel Tip: The Kinryu-no-Mai festival takes place twice a year, on March 18, when the temple's sacred image is presented to the public and on October 18, for the Memorial Service for Chrysanthemums.
Click on photo for higher resolution: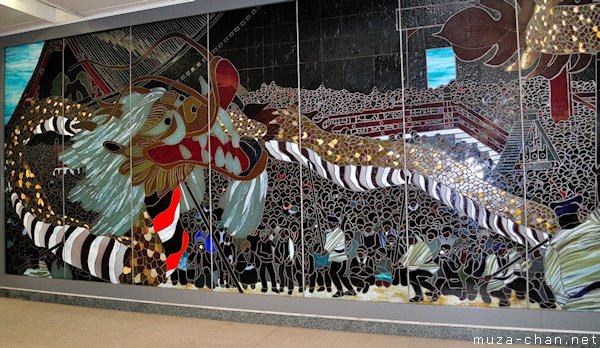 Golden Dragon Dance mosaic, Asakusa station, Tokyo
If you want to license my photos for commercial use, please
contact me
EXIF Info:
| | |
| --- | --- |
| | Nikon D80 |
| | Lens: VR 18-55mm F/3.5-5.6G |
| | Focal Length: 18mm |
| | Aperture: F/5.6 |
| | Shutter Speed: 1/60s |
| | ISO Sensitivity: ISO 400 |
| | |
| --- | --- |
| | Yesterday's Japan Photo: |