The main attraction of the Hasedera Temple from Kamakura is the statue of Kannon, "Bodhisattva of Compassion", the biggest wooden statue of Kannon in Japan (9.18 meters tall).
Hasedera hosts other treasures too: one of Kamakura's most important six statues of Amida Buddha is located in the building pictured here, Amida-do Hall.
The statue was ordered by the Shogun Minamoto no Yoritomo in 1194, represents a sitting Buddha and it is 2.9 meters tall.
It is forbidden to take pictures inside, but you can see a photo on the official website.
Click on photo for higher resolution: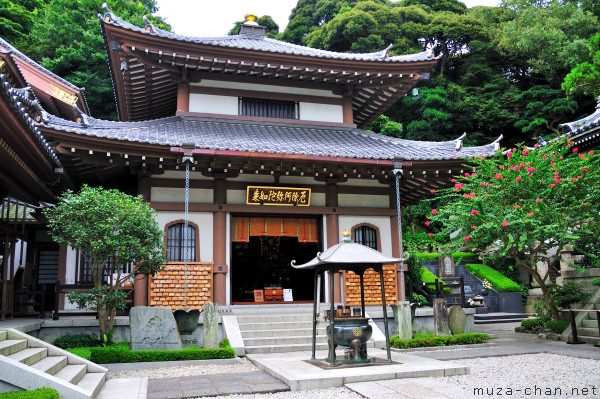 Hasedera Temple, Amida-do Hall, Kamakura
If you want to license my photos for commercial use, please
contact me
EXIF Info:
| | |
| --- | --- |
| | Nikon D300 |
| | Lens: 18-70mm F/3.5-4.5G |
| | Focal Length: 22mm |
| | Aperture: F/4.5 |
| | Shutter Speed: 1/500s |
| | ISO Sensitivity: ISO 200 |
| | |
| --- | --- |
| | Yesterday's Japan Photo: |