In 1870, a former samurai named Yatarō Iwasaki established a shipping firm called Mitsubishi (meaning "three diamonds" - a description of the well known logo, from mitsu "three" and hishi "water chestnut", term used in Japanese for diamond or rhombus shape)…
10 years later, he also established Mitsubishi Bank, and these firms were the starting point for the Mitsubishi Group, one of the Big Four Zaibatsu in Japan. In 1890, the founder's brother, Iwasaki Yanosuke, bought a large piece of land (Mitsubishi ga hara - the Mitsubishi Fields) in Chou-ku, Nihonbashi, Tokyo, in front of today's Marunouchi gate of Tokyo Station.
Most of that area is still owned by Mitsubishi and, of course, the companies headquarters are located right there.
The building is a 148.4 meters tall skyscraper, designed by Mitsubishi Jisho Sekkei Inc. and was inaugurated in 2003.
In 2005, through the merger with UFJ Bank, the Bank of Tokyo-Mitsubishi UFJ become the biggest bank in Japan and the 8th in the world.
Click on photo for higher resolution: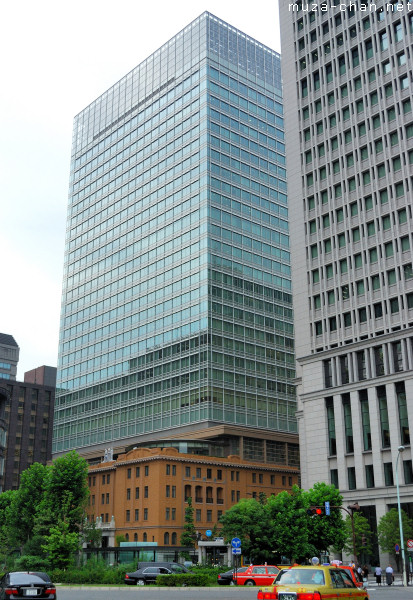 Mitsubishi UFJ Trust and Banking Headquarters Building, Nihonbashi, Tokyo
If you want to license my photos for commercial use, please
contact me
EXIF Info:
| | |
| --- | --- |
| | Nikon D80 |
| | Lens: VR 18-55mm F/3.5-5.6G |
| | Focal Length: 28mm |
| | Aperture: F/5.6 |
| | Shutter Speed: 1/640s |
| | ISO Sensitivity: ISO 200 |
| | |
| --- | --- |
| | Yesterday's Japan Photo: |