At the beginning of the Meiji era, a confectioner named Tozaemon Suzuki opened a candy store on a small street from Kawagoe. The store was a success and soon afterwards, several other confectionery stores opened on the same street. Soon the small street became known as Kashiya Yokocho, the "Sweets Store Alley". It is estimated that during its peak period, around 1930, more than 70 candy stores were located on this street.
Fortunately, the street still exists and even if today there are fewer candy stores, the atmosphere of that period is still alive and the place is still a heaven for those who like sweets.
You can find here a great variety of Japanese traditional sweets and crackers, from which I especially recommend those made from sweet potato, which are some of the best-known products of Kawagoe.
And I almost forgot to mention, they are very tasty and… incredibly cheap.
Travel tip 1: Kawagoe can be reached very easily from Tokyo, by taking the train from Ikebukuro Station. The fastest and cheapest ride is just 30 minutes and ¥450 (about $6) on the Tōbu Tōjō Line Express.

Travel tip 2: Because each store has its own unique techniques and recipes, the candies and crackers have different tastes, so don't limit yourself to the goodies of a single store.
And take your time and look around, in some stores you can see how they are making the candies and you can also taste them for free…
Click on photo for higher resolution: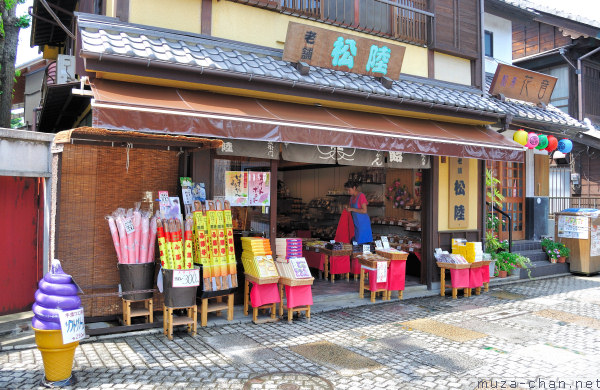 Kashiya Yokocho, Kawagoe
If you want to license my photos for commercial use, please
contact me
EXIF Info:
| | |
| --- | --- |
| | Nikon D90 |
| | Lens: VR 18-55mm F/3.5-5.6G |
| | Focal Length: 18mm |
| | Aperture: F/5.6 |
| | Shutter Speed: 1/250s |
| | ISO Sensitivity: ISO 200 |
| | |
| --- | --- |
| | Yesterday's Japan Photo: |