When you see the group of skyscrapers from Shiodome, it is hard to believe that a few centuries ago this place was a… swamp. The whole Shiodome area was filled in at the orders of Shogun Tokugawa Ieyasu, who wanted to put a barrier between Tokyo Bay and the Edo Castle (Shiodome comes from "keep out the tide").
After that, Shiodome became a place for daimyo residences and today it is filled with huge skyscrapers. But right behind the skyscrapers, survived until today one of the most beautiful Japanese gardens from Tokyo, the Hama-rikyu Gardens. The southern part of the garden was inaugurated during the reign of the Shogun Ienari Tokugawa, while the northern part was developed during the Meiji period.
I simply love the combination of Japanese garden and modern skyscrapers… This is an image from the northern part, with a blooming Crape myrtle.
Click on photo for higher resolution: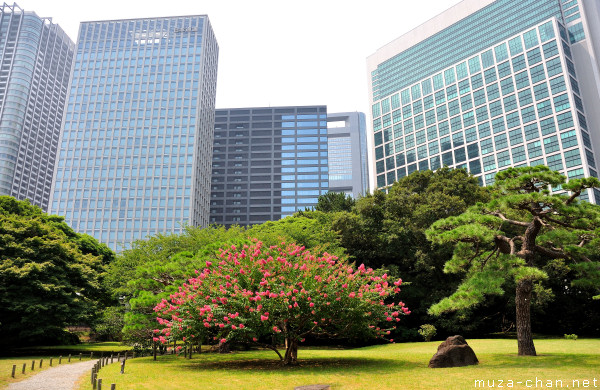 Hama-rikyu Gardens, Shiodome, Tokyo
If you want to license my photos for commercial use, please
contact me
EXIF Info:
| | |
| --- | --- |
| | Nikon D90 |
| | Lens: VR 18-55mm F/3.5-5.6G |
| | Focal Length: 18mm |
| | Aperture: F/5.6 |
| | Shutter Speed: 1/800s |
| | ISO Sensitivity: ISO 200 |
| | |
| --- | --- |
| | Yesterday's Japan Photo: |