Taiga dorama, the traditional year-long television series produced by the NHK television, fulfills a multiple role: besides the entertainment part, it strongly promotes tourism to the places featured in the series.
The story told by this year's drama is about the life of Yamamoto Yaeko (Yae), the daughter of a gunnery instructor from Aizu, Fukushima, a woman that entered in the history of Japan because she fought in the Boshin civil war.
Of course, the taiga is strongly promoted and a series of cute posters adorning the Yamanote trains this spring were featuring Yae-tan, the cute mascot inspired by Yae, promoting the area's main attractions.
By pure coincidence, one of my destinations on this spring was exactly the city of Aizu-Wakamatsu… and after a brief visit, all I can say is to repeat their words: Minna koransho Aizu! "Come all to Aizu!". It is a city well prepared for tourism, loaded with historical places (I'll come back soon with some travel impressions from Aizu), great quality traditional crafts and delicious food…
Travel tips:
- If you decide to visit Aizu-Wakamatsu, be sure to first take a good look at their well-made website, Samurai City.

- To go to Aizu-Wakamatsu, you can take the Tōhoku Shinkansen from Tokyo to Koriyama and change there to a Ban'etsu West Line train. The whole trip is free if you have a Japan Rail Pass (about ¥9,000 otherwise) and takes about 3 hours.
Click on photo for higher resolution: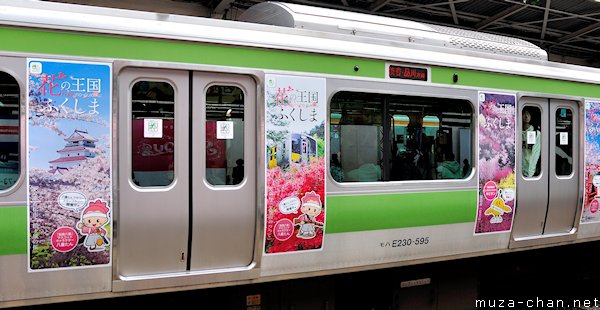 Yamanote train, Tokyo
If you want to license my photos for commercial use, please
contact me
EXIF Info:
| | |
| --- | --- |
| | Nikon D90 |
| | Lens: 18-70mm F/3.5-4.5G |
| | Focal Length: 18mm |
| | Aperture: F/5.6 |
| | Shutter Speed: 1/200s |
| | ISO Sensitivity: ISO 200 |
| | |
| --- | --- |
| | Yesterday's Japan Photo: |