On the Senso-ji grounds, near the Niomon gate, there is a small temple, with an impressive story.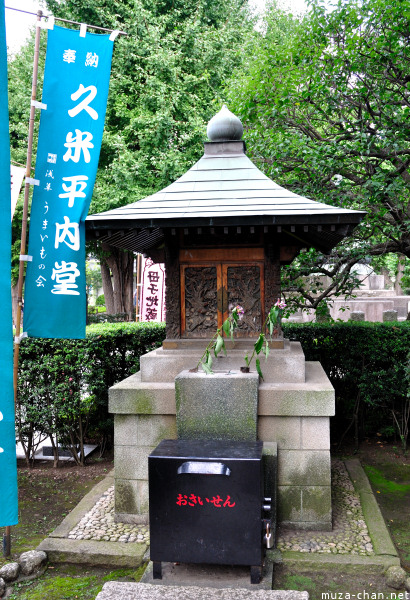 During the 17th century, in the Senso-ji Temple, there was an old monk named Kume no Heinai ( 久米平内 ). During his life, he was a samurai, a master of the martial art of Kenjutsu. When he became old, he dedicated himself to Zen Buddhism and held religious services for the souls of the people he killed.
Before his death, he requested his followers to carve his figure on a stone and to bury it near the Niomon gate, in a highly trafficked area. He wanted his statue to be to be stepped on by many people, as a repentance for his past crimes.
After a while, the statue was moved inside a small temple nearby, called Fumitsuke. The original temple was destroyed during the World War II, but it was reconstructed in October 1978.
A strange fact is that today, at this temple, people come to pray for… marriage and match making! :)
More photos: