For many of the foreign tourists, Narita is just the town that gives its name to the Tokyo's international airport. And for a few years, I was one of them too… of course I knew about Naritasan, the temple with the Great Pagoda of Peace that can be seen from the airport-bound trains, I knew about the yearly Narita Gion and Narita Taiko festivals… But since there are so many attractions in Tokyo, I postponed the visit to Narita.
When I finally visited Narita, during the crowded Hatsumode days, I was delighted by the town's traditional area. My advice? When visiting Japan, reserve yourself at least half a day to enjoy even just a bit of what Narita has to offer…
Running from the JR and Keisei train stations to the Naritasan Temple, the Omote-sando street crosses the Monzen-machi ("Temple town"), which is packed with old, traditional stores and hotels. I tasted here a lot of traditional delicacies, like tsukemono (Japanese pickles) or senbei rice crackers and you can also taste the local sake…
Travel tip: You can get there quite easy, but you need to take care a bit about the trains: if you use the JR Pass, you may be tempted to jump in the first Narita Express, but the express stops at Narita city only during morning and evening rush hours… However, going with a regular train would require a transfer from the Sōbu Line to the Narita Line (at Sakura or Chiba), which can be bothersome. So what I did was to use the Narita Express to go fast directly to the Narita Airport Terminal 2 and then I took a Narita Line train back to Narita… It was the fastest option, just a bit over 1 hour.

If you're not using the JR Pass, you may want to use the Keisei line, which departs from Ueno, but again, don't take the popular Skyliner, because it runs on the new Narita Sky Access route which does not pass through Narita - you should use the Keisei Main Line trains, like City Liner.
Click on photo for higher resolution: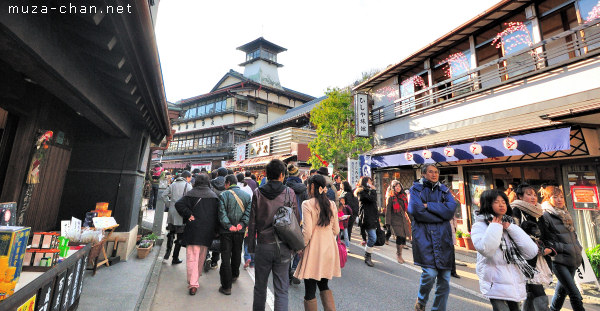 Temple town (Monzen machi), Narita
If you want to license my photos for commercial use, please
contact me
EXIF Info:
| | |
| --- | --- |
| | Nikon D90 |
| | Lens: 8-16mm F/4.5-5.6G |
| | Focal Length: 12mm |
| | Aperture: F/5.6 |
| | Shutter Speed: 1/800s |
| | ISO Sensitivity: ISO 200 |
| | |
| --- | --- |
| | Yesterday's Japan Photo: |