During the Sengoku period, the Odawara castle was owned by the powerful Hojo clan and was one of the most heavily defended castles.
In 1561, the warlord Uesugi Kenshin tried to conquer Odawara, but after two months of siege he admitted its defeat and redrew. Eight years later, Takeda Shingen, another powerful daimyo, attacked it but redrew after only 3 days of siege.
However, 21 years later, Toyotomi Hideyoshi came prepared and managed to conquer it after three months of siege. Hideyoshi surrounded Odawara with a huge army, and while the defenders were starving he partied with his entire army, bringing to the siege prostitutes, musicians, his concubines and even the tea master Sen no Rikyū.
After the Hojo clan capitulated, the Odawara castle became the property of the soon to be shogun Tokugawa Ieyasu, who was at the time a general in Hideyoshi's army.
Click on photo for higher resolution: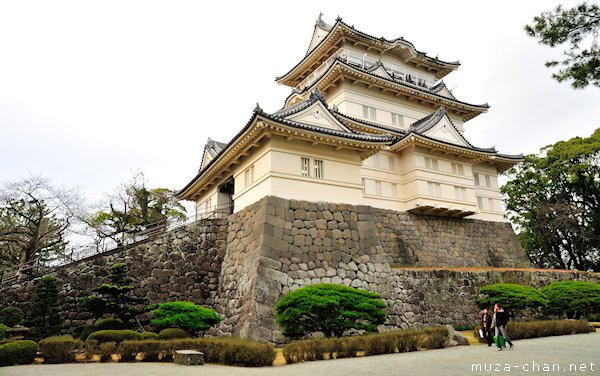 Odawara Castle, Odawara
If you want to license my photos for commercial use, please
contact me
EXIF Info:
| | |
| --- | --- |
| | Nikon D300 |
| | Lens: 18-70mm F/3.5-4.5G |
| | Focal Length: 18mm |
| | Aperture: F/7.1 |
| | Shutter Speed: 1/80s |
| | ISO Sensitivity: ISO 400 |
| | |
| --- | --- |
| | Yesterday's Japan Photo: |