I was always fascinated by the Japanese folklore tales, with their monsters, demons or spirits, so different than the western tales.
A good example (and one of my favorites) is the story about Tsukumo-gami, a type of Japanese spirit: it is said that an object older than 100 years (that's metaphorically speaking, meaning a long period of time), can became… alive.
And if that object was neglected or thrown away, it becomes furious, transforming into a haunting humanoid version of itself. Most of them are not dangerous, but they will perform pranks to scare their former owner.
The most popular Tsukumo-gami is Kasa Obake or Karakasa Obake, the Umbrella ghost… and this makes sense, because in Japan it is hard to think about any other object so often neglected and abandoned.
The Kasa Obake has the shape of a traditional Japanese umbrella (wagasa), with a single foot wearing a geta and with a looong tongue. It stays hidden behind its victim and it attacks by flying around with the tongue sticking out…
Here's a detail from an origami diorama photographed at the Japan Origami Museum from Narita Airport, Tokyo - there's an umbrella ghost here, ready to attack:
Click on photo for higher resolution: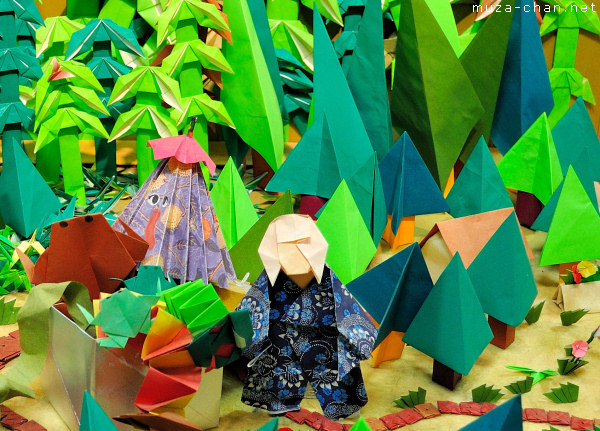 Karakasa Obake (Umbrella Ghost), Japan Origami Museum, Narita Airport, Tokyo
If you want to license my photos for commercial use, please
contact me
EXIF Info:
| | |
| --- | --- |
| | Nikon D90 |
| | Lens: VR 18-55mm F/3.5-5.6G |
| | Focal Length: 20mm |
| | Aperture: F/5 |
| | Shutter Speed: 1/40s |
| | ISO Sensitivity: ISO 200 |
| | |
| --- | --- |
| | Yesterday's Japan Photo: |