There are so many legends about vengeful ghosts in Japan that there's even a classification, depending on how they died and the reason for their haunting… One of these ghost categories is called Goryo, which can be translated as "honorable soul". Goryo are souls who died martyred or after a great injustice, and the most famous such ghost is Sugawara no Michizane, known today as kami Tenjin, the Shinto god of learning.
Here's the story:
At the end of the 10th century, Michizane was an important government official in Kyoto, but due to the plot of a rival, in the year 901 he was demoted and banished to Kyūshū. He died lonely and after his death several disasters hit Kyoto (plague, drought, rainstorms and floods) and the Imperial Palace.

The catastrophes were attributed to Michizane's angry spirit, so his rank was posthumously restored and the Imperial court even built a Shinto shrine, Kitano Tenman-gū, dedicated to his memory. But even that wasn't enough, and the vengeful spirit was finally appeased only 70 years later, when Sugawara no Michizane was deified as Tenjin, the kami of scholarship.
Today, there are dozens of shrines dedicated to Tenjin, like the one in this photo, located in Fukuoka, in the district that bears its name, Tenjin.
Click on photo for higher resolution: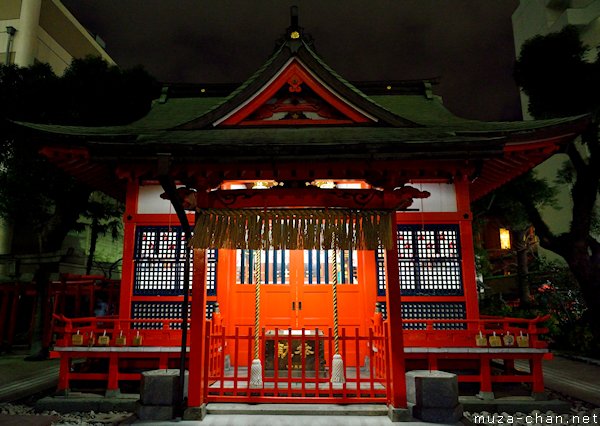 Suikyo Tenmangu Shrine, Tenjin, Fukuoka
If you want to license my photos for commercial use, please
contact me
EXIF Info:
| | |
| --- | --- |
| | Nikon Df |
| | Lens: 24-70mm F/2.8G |
| | Focal Length: 24mm |
| | Aperture: F/2.8 |
| | Shutter Speed: 1/60s |
| | ISO Sensitivity: ISO 5000 |
| | |
| --- | --- |
| | Yesterday's Japan Photo: |