Before entering inside a Shinto Shrine, the visitors are performing a cleansing ritual called temizu (from te "hand" and mizu "water" - water to purify the hands), an important part of the Japanese shrine etiquette.
In the old times, temizu was performed directly in a stream of water flowing near the shrine and in some very traditional shrines, like the Ise Jingu, this custom is still kept up.
But the most common way is to perform the ritual in a special construction called temizuya (or chōzuya): with a simple design, just a roof on four pillars, with the water flowing in a stone basin, these are however some of the most beautifully crafted structures inside the shrine. That's why, over time, I took a lot of temizuya photos… but today I would like to show you something different: although temizuya is a construction specific to Shinto Shrines, here's one built inside a Buddhist Temple, at the Narihira Temple from Katsushika, Tokyo.
Click on photo for higher resolution: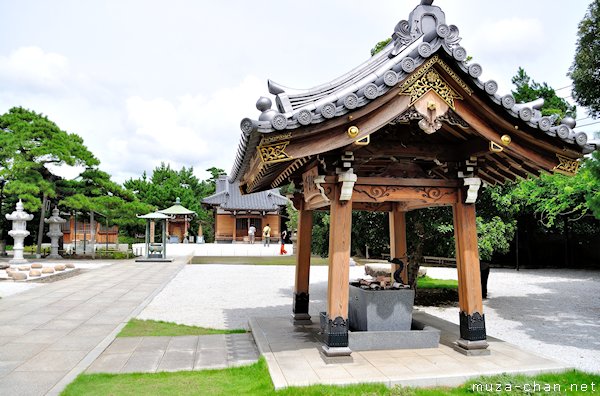 Narihira Temple, Katsushika, Tokyo
If you want to license my photos for commercial use, please
contact me
EXIF Info:
| | |
| --- | --- |
| | Nikon D90 |
| | Lens: VR 18-55mm F/3.5-5.6G |
| | Focal Length: 18mm |
| | Aperture: F/5.6 |
| | Shutter Speed: 1/1000s |
| | ISO Sensitivity: ISO 200 |
| | |
| --- | --- |
| | Yesterday's Japan Photo: |