The story says that in 628, on March 18, two men fishing in the Sumida river caught in their net a statue of Bodhisattva Kannon, the Goddess of Mercy. Realizing the importance of the statue, the head of their village made a shrine dedicated to Kannon in his own house, where he displayed the statue.
After 7 years, the priest Shokai Shonin enshrined the statue in the newly built Kannon-do Hall, which later became the Senso-ji Temple from Asakusa. An interesting fact is that, after a revelation, he decided that the statue should be hidden from people and this rule remained in place until today.
However, 150 years later, a monk named Ennin made an identical replica of the original statue, displaying it and allowing people to worship it, a decision that contributed a lot to the development of the Senso-ji Temple.
To honor him, at the 1200 anniversary of its birth, in 1994, a dedicated hall was built at the Senso-ji Temple, the Yogodo Hall, photographed here in a beautiful summer night.
Click on photo for higher resolution: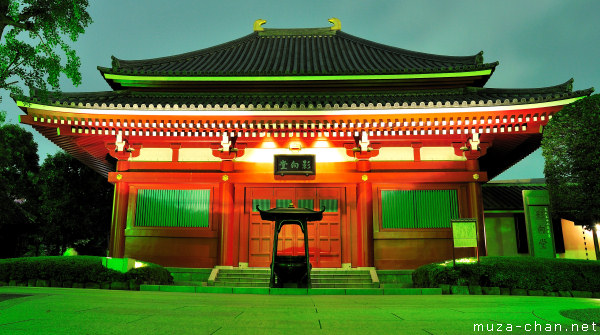 Yogodo Hall, Senso-ji Temple, Asakusa, Tokyo
If you want to license my photos for commercial use, please
contact me
EXIF Info:
| | |
| --- | --- |
| | Nikon D300 |
| | Lens: 18-70mm F/3.5-4.5G |
| | Focal Length: 18mm |
| | Aperture: F/7.1 |
| | Shutter Speed: 15s |
| | ISO Sensitivity: ISO 200 |
| | |
| --- | --- |
| | Yesterday's Japan Photo: |