One of the few buildings in Ginza that survived the bombings of the Second World War was the Hattori Clock Tower, also known as Ginza Wako.
Located at the hearth of Ginza district and owned today by Seiko Holdings Corporation, Ginza Wako is one of the best known luxury stores in Japan.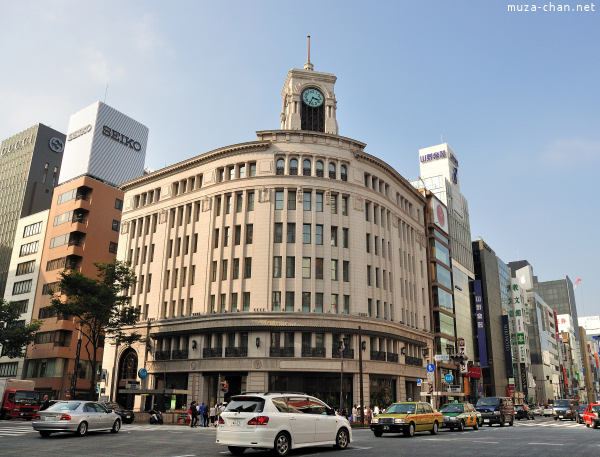 The Neo-Renaissance styled building was built in 1932 and was designed by the architect Jin Watanabe.
Before 1932, on the same site was located an older Hattori building, built in 1894, a watches and jewelry store, owned by Kintaro Hattori.
An interesting fact, this was the company that in 1913 produced the first watches in Japan under the name Seikosha, which became later the well known Seiko.
The
Hattori building
during the Meiji Era, image via
Wikipedia
Speaking of clocks and watches, a common characteristic of the two buildings is the.. clock tower. :)
At the beginning, the old Hattori building featured a tower with a 1 meter diameter bell, manually operated to mark the hours. The today's Ginza Waco clock announces the time singing a well known melody, Westminster Chimes.