The first book in the world about origami appeared in Japan in 1797: Hidden Senbazuru Orikata (The secret of one thousand paper crane origami). The art of paper folding is however much older, having its roots in religious rituals like the paper butterflies for Shinto weddings (still used today).
Also the etiquette of the time required the samurai to offer gifts wrapped in paper adorned with noshi, a symbol for good wishes.
Origami became a cultural phenomenon during the Edo period, when the art of paper folding moved away from rituals and etiquette, becoming a source of enjoyment. Later, during the Meiji period, origami was even included in kindergarten and school education.
Travel Tip: Before leaving Japan through the Narita Airport, visit the Japan Origami Museum located at the Terminal 1, Central building, at the 3rd floor. Here you can admire over 400 exhibits of traditional origami and you can also buy origami books and origami paper.
Some of the exhibits from the museum are full dioramas, like the ones from this photo:
Click on photo for higher resolution: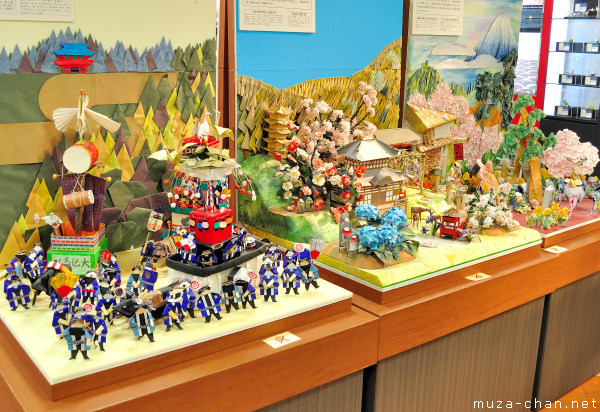 Japan Origami Museum, Narita Airport, Tokyo
If you want to license my photos for commercial use, please
contact me
EXIF Info:
| | |
| --- | --- |
| | Nikon D90 |
| | Lens: VR 18-55mm F/3.5-5.6G |
| | Focal Length: 18mm |
| | Aperture: F/5.6 |
| | Shutter Speed: 1/60s |
| | ISO Sensitivity: ISO 640 |
| | |
| --- | --- |
| | Yesterday's Japan Photo: |