The area where today's Tsukiji Fish Market is located, was during the Edo period a swamp, part of the delta formed by the Sumida River. Over time, there were multiple attempts to fill in the swamp, but often the buildings built on reclaimed land were destroyed by the water.
The legend tells that the wind and the waves miraculously calmed down after the local residents built a shrine and enshrined a statue found floating on water. So, the shrine was named Namiyoke (meaning "to protect from waves") and in 1659, when the works for land reclamation finished, a festival with a mikoshi parade was established.
The shrine is today considered the guardian of the Tsukiji fish market and the festival still takes place, at the beginning of June. The main attraction is the parade of a very special mikoshi, called ohaguro shishi ("lioness with blackened teeth"). It weights 700 kg and by tradition is carried only by women.
Travel Tip: If you visit the Tsukiji area, don't miss the Namiyoke Inari Jinja, which is located right near the fish market. You will also find the ohaguro shishi displayed in front of the shrine.
Here's the Google Map and Street View:

View Larger Map
Click on photo for higher resolution: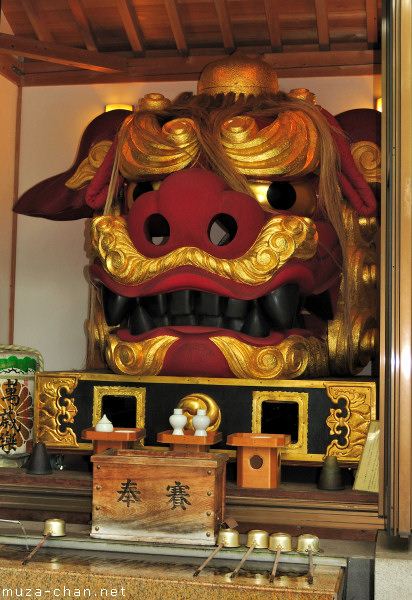 Ohaguro shishi (lioness with blackened teeth), Namiyoke Inari Shrine, Tsukiji, Tokyo
If you want to license my photos for commercial use, please
contact me
EXIF Info:
| | |
| --- | --- |
| | Nikon D90 |
| | Lens: VR 18-55mm F/3.5-5.6G |
| | Focal Length: 30mm |
| | Aperture: F/5.6 |
| | Shutter Speed: 1/60s |
| | ISO Sensitivity: ISO 200 |
| | |
| --- | --- |
| | Yesterday's Japan Photo: |