Tsukishima is an artificial island built in 1892 by using the earth removed during the dredging works for the Tokyo Bay's navigational channel.
The Monja Street from Tsukishima is famous for its small restaurants serving monjayaki, a local delicacy.
But there is also a little known fact, that on this street there is a miniature building with an interesting record: this is the Nishi Naka Dori kōban (police box) which, built in 1921, managed to survive all the disasters that hit Tokyo over the time, so now it is the oldest kōban in Tokyo.
Fortunately, it was also protected when the rebuilding plans were drawn, as indicated by the fact that in its current position, the small kōban occupies a part of the street.
Click on photo for higher resolution: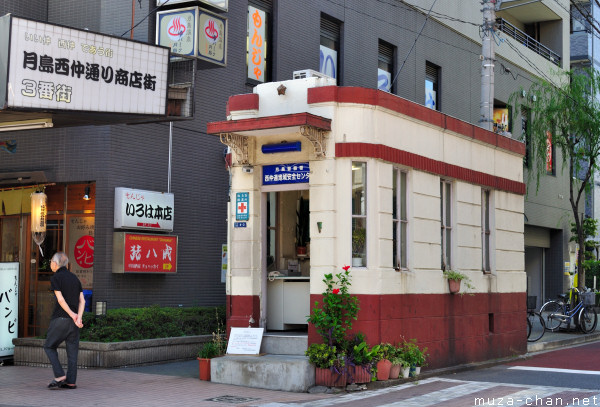 Kōban, Monja Street, Tsukishima, Tokyo
If you want to license my photos for commercial use, please
contact me
EXIF Info:
| | |
| --- | --- |
| | Nikon D90 |
| | Lens: VR 18-55mm F/3.5-5.6G |
| | Focal Length: 35mm |
| | Aperture: F/7.1 |
| | Shutter Speed: 1/1250s |
| | ISO Sensitivity: ISO 200 |
| | |
| --- | --- |
| | Yesterday's Japan Photo: |