Generally, the good luck charms in Japan are sold throughout the year, but there are a few notable exceptions. Hamaya, the "demon-breaking arrow", is sold at Shinto shrines only during the first days of the year.
Hamaya is a decorative arrow said to bring good luck and the origins of this tradition are in the Edo period when, at the first celebration of the New Year, it was a custom to bring for the newborn boys a gift consisting in a decorative set of bow and arrow (hamayumi). Today, hamayumi are not as popular as hamaya, but there are still shrines selling them during the first days of the New Year. I bought one for myself last year at the Asakusa Shrine.
Of course, each shrine has its own hamaya and here you can see the ones sold last year at the Tsurugaoka Hachimangu in Kamakura. Tied to the arrow are small ema (votive plaques) with the zodiacal sign of the year (2011 was the Year of the Rabbit, but the new year will be the Year of the Dragon). I also noticed a few arrows with… Hello Kitty!
Click on photo for higher resolution: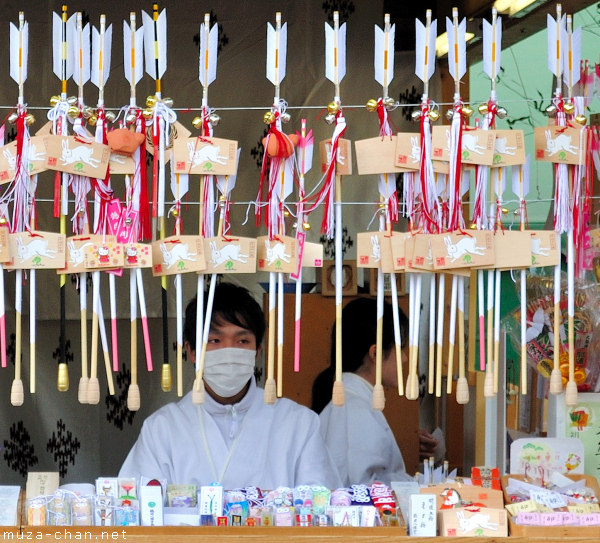 Lucky charms stall, Tsurugaoka Hachimangu, Kamakura
If you want to license my photos for commercial use, please
contact me
EXIF Info:
| | |
| --- | --- |
| | Nikon D90 |
| | Lens: VR 18-55mm F/3.5-5.6G |
| | Focal Length: 55mm |
| | Aperture: F/5.6 |
| | Shutter Speed: 1/125s |
| | ISO Sensitivity: ISO 200 |
| | |
| --- | --- |
| | Yesterday's Japan Photo: |