There are two attractions inside the famous complex of Senso-ji, the Buddhist temple Senso-ji and the Shinto shrine Asakusa-jinja. Historically, they are both connected to an event that took place in the year 628, when two men discovered in the nearby Sumida river a small statue of Kannon Bodhisattva.
The statue is enshrined in the Buddhist temple, while Asakusa-jinja is dedicated to the two discoverers and to a third man who, after the discovery, converted them to Buddhism and founded the first temple on this location.
That's why the Asakusa Shrine also carries the name of Sanja-sama, the "Shrine of the Three Gods", name made famous by the local festival, Sanja Matsuri. The construction of the shrine we know today was ordered by the shogun Tokugawa Iemitsu and the building was finished in 1649.
Click on photo for higher resolution: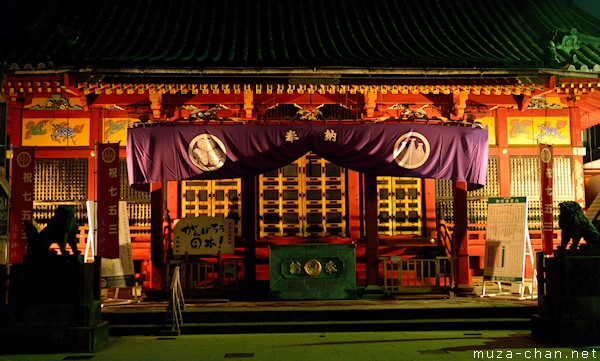 Asakusa Shrine, Tokyo
If you want to license my photos for commercial use, please
contact me
EXIF Info:
| | |
| --- | --- |
| | Nikon Df |
| | Lens: 24-70mm F/2.8G |
| | Focal Length: 42mm |
| | Aperture: F/2.8 |
| | Shutter Speed: 1/60s |
| | ISO Sensitivity: ISO 3200 |
| | |
| --- | --- |
| | Yesterday's Japan Photo: |