Setsubun ( 節分 ) is a Japanese traditional celebration taking place in the last day of a season. From the four annual festivals, the most important is the one taking place today, on February 3rd, celebrating the coming of spring. The day after Setsubun, February 4th, is considered the first spring day, called Risshun.
Before Setsubun, special oni masks and fried soy beans called fuku mame ( 福豆 ) are put up for sale in Japan. These are used for Mamemaki, a "bean throwing" custom dating back to the Muromachi period (1333-1568).
The purpose of Mamemaki is to drive away the evil spirits and it goes like this: the father or the grandfather, who has the leading role in the ritual, stands in the doorway throwing soybeans at someone wearing an oni mask. The rest of the family members are shouting "Oni wa soto! Fuku wa uchi!" ( 鬼は外! 福は内 ) "Out with the demons! In with the luck!".
The ukiyo-e painter Katsushika Hokusai immortalized this custom in one of his paintings:
Then, to be protected from illness during the year, each member of the family eats a number of fried soy beans equal to his age, or age plus one (it varies)… I like the fried soy beans, so I guess I can eat a lot more than necessary…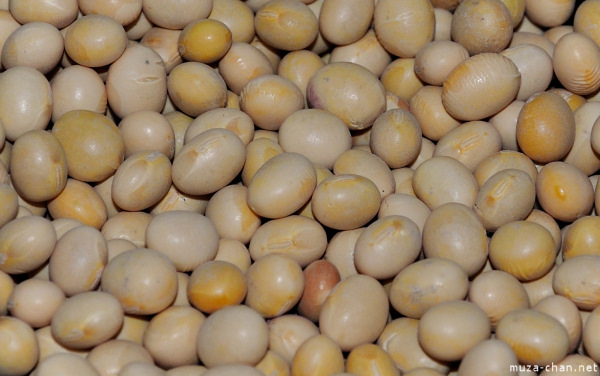 Mamemaki also takes place at Buddhist Temples and Shinto Shrines, were the ritual can be performed by celebrities, Sumo wrestlers or personalities born in years with the same Chinese zodiac sign as the current year. The fried soy beans can be wrapped in gold or silver foil and can also be replaced by small envelopes with money or sweets…
Another funny Setsubun custom was to place in front of the house entry fried sardine heads on hiiragi shrubs, because it was considered that the demons will be driven off by the… sardine smell.