Dōgo Onsen, the spectacular building in Matsuyama (click here for a day time photo) that inspired Hayao Miyazaki for its the Spirited Away movie, has an old Shinto legend.
It is said that Ōkuninushi, the kami who created the land and Sukunahikona, the kami who assisted Ōkuninushi to "form of the land", took a trip from Izumo to Dōgo (in today's Matsuyama). Sukunahikona was ill, but after taking a bath in a local hot spring, was healed. Then, the kami danced with joy, and a footprint remained imprinted in stone.
That stone is known as "Tama no ishi", and it is exhibited at the Dōgo Onsen, which it is also believed that it was built by the two kami.
Click on photo for higher resolution: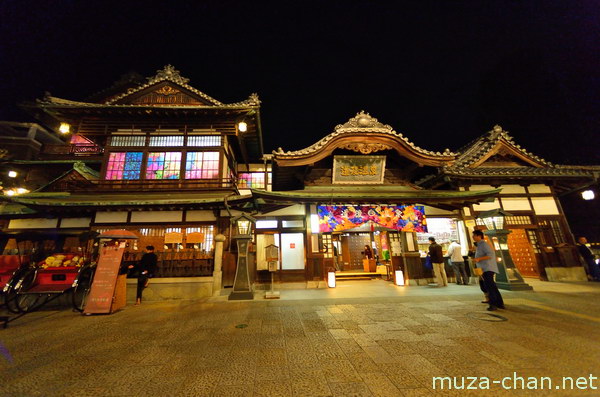 Dogo Onsen, Matsuyama, Ehime
If you want to license my photos for commercial use, please
contact me
EXIF Info:
| | |
| --- | --- |
| | Nikon Df |
| | Lens: 14mm F/2.8D |
| | Focal Length: 14mm |
| | Aperture: F/3.5 |
| | Shutter Speed: 1/60s |
| | ISO Sensitivity: ISO 6400 |
| | |
| --- | --- |
| | Yesterday's Japan Photo: |