The well-known red color of the traditional buildings from Kyoto Gion or Shimabara was created by a pigment extracted from the iron oxide-rich soil of Bengal, India, provenience indicated by its Japanese name: bengara.
A lesser-known but equally impressive pigment, brought also from India, was used for the fireproof walled kurazukuri storehouses, which first appeared in Kawagoe, a small town near Edo. The plaster making them fire resistant is a local Japanese invention called shikkui, a combination of hydraulic lime and calcium carbonate plus a mix of natural components like seaweed extracts, soybean oil or even eggshells.
But this plaster is white and since the black color - Edoguro ("Edo black") - was extremely popular in the Kantō region during the end of the Edo period, the black was obtained by the use of India ink, know in Japan as bokujuu.
Click on photo for higher resolution: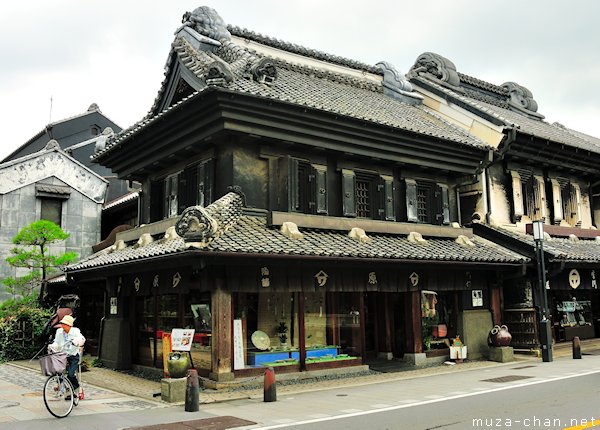 Kurazukuri Houses, Kawagoe, Saitama
If you want to license my photos for commercial use, please
contact me
EXIF Info:
| | |
| --- | --- |
| | Nikon D90 |
| | Lens: VR 18-55mm F/3.5-5.6G |
| | Focal Length: 18mm |
| | Aperture: F/7.1 |
| | Shutter Speed: 1/250s |
| | ISO Sensitivity: ISO 200 |
| | |
| --- | --- |
| | Yesterday's Japan Photo: |