The Daruma Dolls are unlike most of the other talismans, which are usually dedicated to specific wishes (or protections). Their tradition says that the owner should carefully focus on one desire, then paint one of the eyes of the doll. After the desire was fulfilled, the second eye must also be painted…
And because in Japan, during the New Year's celebrations, there is a custom to make wishes for the next year, most of the lucky charms are bought right before or after the New Year. The older good luck charms are brought to shrines or temples, in order to be burned in a ritual fire called Dondo Yaki.
Photographed here are Daruma Dolls brought, at the end of the year, to the Shorinzan Daruma Temple, in Takasaki.
Click on photo for higher resolution: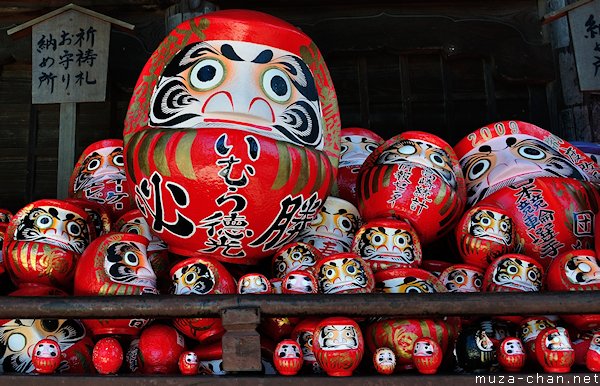 Shorinzan Daruma Temple, Takasaki
If you want to license my photos for commercial use, please
contact me
EXIF Info:
| | |
| --- | --- |
| | Nikon D90 |
| | Lens: VR 18-55mm F/3.5-5.6G |
| | Focal Length: 18mm |
| | Aperture: F/5 |
| | Shutter Speed: 1/200s |
| | ISO Sensitivity: ISO 250 |
| | |
| --- | --- |
| | Yesterday's Japan Photo: |