If you visit Nikko, you must visit the Tōshōgū Shrine. And if you visit the Tōshōgū Shrine, you should visit the grave of one of the most important figures from the history of Japan, Ieyasu Tokugawa, the founder of the Tokugawa shogunate. Granted, the grave by itself is not very impressive, but the path to the grave, through a forest of Sugi 「杉」 (Japanese cedars), is truly beautiful.
The remains of Ieyasu Tokugawa are placed in Okusha-houtou, a 5 meters tall bronze hōtō (jewel stupa, a pagoda version invented in Japan), placed on a foundation with 9 steps. In front of the grave there are three Buddhist accessories used to make offerings, gifts from a Korean king: an evergreen vase, an incense burner with a Chinese lion on top and a candlestick shaped in the form of a crane sitting on a turtle.
Travel tip: Neither the ticket to Tōshōgū Shrine nor the combination ticket (that covers Rinno-ji Temple, Taiyuin Mausoleum and Futarasan Shrine) includes the Shogun's grave.
To visit it, you will need to buy the admission ticket for the Nemuri Neko carving - it costs ¥520, about $7 at the current exchange rate.
Click on photo for higher resolution: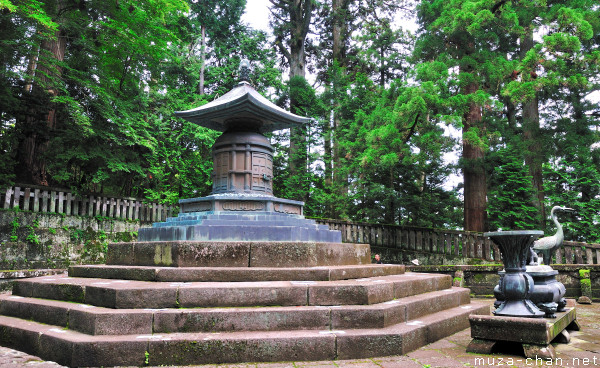 The Grave of Ieyasu Tokugawa, Toshougu Shrine, Nikko
If you want to license my photos for commercial use, please
contact me
EXIF Info:
| | |
| --- | --- |
| | Nikon D300 |
| | Lens: 18-70mm F/3.5-4.5G |
| | Focal Length: 18mm |
| | Aperture: F/7.1 |
| | Shutter Speed: 1/125s |
| | ISO Sensitivity: ISO 400 |
| | |
| --- | --- |
| | Yesterday's Japan Photo: |