Ever since my first visit to Japan, I wanted to see the Hiroshima Peace Memorial. I visited it yesterday… there are so many impressive and unforgettable monuments… Among them, the one that impressed me the most was the Atomic Bomb Dome.
Inaugurated in 1915, the Hiroshima Prefectural Commercial Exhibition instantly became a landmark of Hiroshima. The building was designed by the Czech architect Jan Letzel and its purpose was to promote industrial production… Nobody would have imagined then the tragic destiny of this building and the peace symbol that it became.
Actually, it seems that the survival of the Dome was due to a targeting error… like the rest of the surrounding buildings, it would have been completely destroyed by the shock-wave if the bomb would have reached its target, the nearby Aioi Bridge. But the bomb exploded almost right above the Dome and a part of the walls and the metallic frame remained standing.
The people called it Genbaku Dōmu 「原爆ドーム」, the Atomic Bomb Dome, and in 1966 a decision has been made to preserve it as a memorial for the people who died then and as a symbol of hope that something like this will never happen again.
In 1996 the Hiroshima A-bomb Dome was designated a UNESCO World Heritage Site:
Click on photo for higher resolution: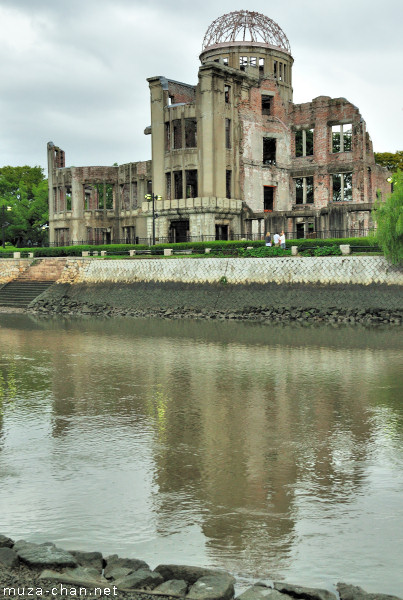 Hiroshima A-bomb Dome
If you want to license my photos for commercial use, please
contact me
EXIF Info:
| | |
| --- | --- |
| | Nikon D90 |
| | Lens: VR 18-55mm F/3.5-5.6G |
| | Focal Length: 30mm |
| | Aperture: F/7.1 |
| | Shutter Speed: 1/60s |
| | ISO Sensitivity: ISO 400 |
| | |
| --- | --- |
| | Yesterday's Japan Photo: |