Living in a world where wars are still fought, everyone on the planet should understand and remember the tragedy of the two nuclear bombed Japanese cities, Hiroshima and Nagasaki…
In Hiroshima, exactly 69 years ago, on August 6, 1945, at 08:15 Japan time, 80 thousand people were killed instantly by the atomic explosion. And within the next years, the number of deaths tripled due to wounds and radiation.
The arch photographed here is the Cenotaph for the A-bomb Victims, located in the Hiroshima Peace Memorial Park. Designed by the renowned architect Kenzo Tange, it represents a shelter for the souls of the victims and holds inside a stone chest of 77 volumes containing 221,893 names, the victims of the atomic bomb. The inscription on the front says:
安らかに眠って下さい 過ちは 繰返しませぬから

Let all the souls here rest in peace, for we shall not repeat the evil.
Click on photo for higher resolution: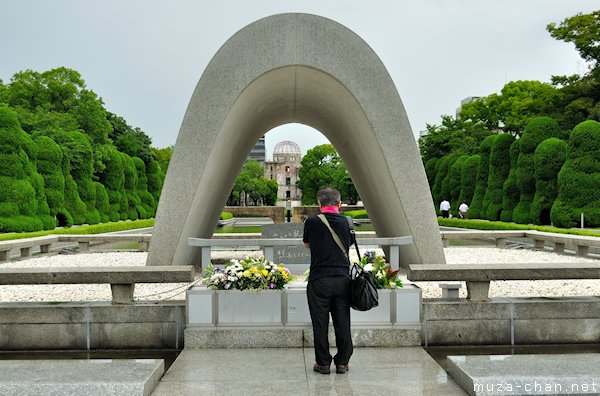 Cenotaph for the A-bomb Victims, Hiroshima Peace Memorial Park, Hiroshima
If you want to license my photos for commercial use, please
contact me
EXIF Info:
| | |
| --- | --- |
| | Nikon D90 |
| | Lens: VR 18-55mm F/3.5-5.6G |
| | Focal Lenght 30mm |
| | Aperture: F/5.6 |
| | Shutter Speed: 1/125s |
| | ISO Sensitivity: ISO 400 |
| | |
| --- | --- |
| | Yesterday's Japan Photo: |