Today (at 08:15 Japan time) marks 66 years since one of the darkest days in the history of humanity, the atomic bombing of Hiroshima. Approximately 80000 people, about 30% of the city's population, died instantly killed by the blast. Many others (a number estimated between 100000 and 200000) suffered from burns and radiation illness and died during the next years…
As a symbol of peace and in the memory of those who died, there are several monuments in Japan keeping alive the flame ignited by the atomic bomb. This is not a figure of speech, the flame was indeed taken after it was ignited by the bombing and it was kept alive until today! Here's the story:
On August 6th, 1945, when the bomb exploded, Tatsuo Yamamoto was in a train near Hiroshima, on his way to a military base. His uncle was running a bookstore on the Hondōri street (in the center of Hiroshima), so Tatsuo went there, searching for his uncle. But he found the house destroyed and a flame was still burning… With that flame, he lit a portable warmer and took it home, in the Hoshino-mura village from Fukuoka.
Tatsuo Yamamoto kept the flame burning, inside the family shrine and in a kamado (a traditional Japanese stove) until 1968, when the existence of the flame became public and the flame was transferred inside a monument.
From there, the flame was taken to 14 places in Japan. One of them is the monument from the Toshougu Shrine in Ueno, Tokyo, and I found another one in Ofuna, near the great Kannon statue.
Here, the flame is lit inside the stone lantern from this photo, installed in 1990 by the Kanagawa Association of A-bomb Sufferers:
Click on photo for higher resolution: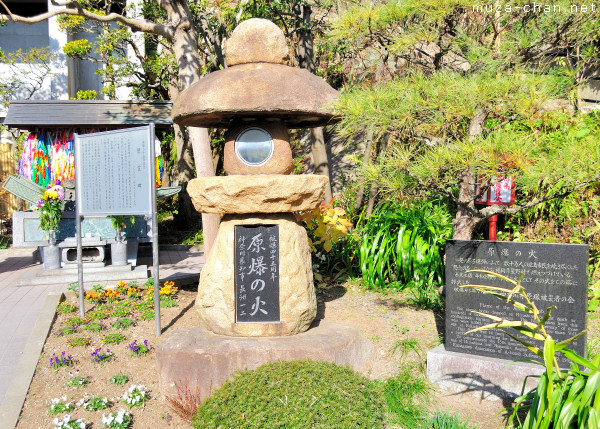 Flame of the Atomic Bomb, Ofuna Kannonji, Ofuna
If you want to license my photos for commercial use, please
contact me
EXIF Info:
| | |
| --- | --- |
| | Nikon D90 |
| | Lens: VR 18-55mm F/3.5-5.6G |
| | Focal Length: 20mm |
| | Aperture: F/5.6 |
| | Shutter Speed: 1/800s |
| | ISO Sensitivity: ISO 200 |
| | |
| --- | --- |
| | Yesterday's Japan Photo: |