Since the Edo period, the Hozuki Ichi (Chinese Lantern Plant Fair) is held on every year, on July 9th and 10th, at the Senso-ji Temple in Asakusa.
Hozuki it's cultivated as an ornamental plant and as a medicinal herb, used by pregnant women to reduce fever and discomfort. The name comes from the shape and texture of the fruit, that looks like a small paper lantern.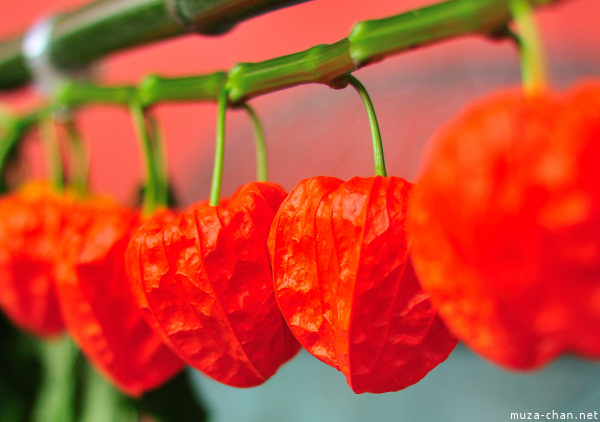 Simultaneously, on July 10th, a special event takes place, Shiman-rokusen-nichi, The Day of 46,000 Blessings, based on the belief that a visit to the temple on this day gives worshipers the same benefit as 46,000 visits to the temple and the same number of lucky days.
The fair attracts hundreds of thousands of visitors each year, so to avoid the crowd and the heat, I went early in the morning (that's me, in yellow… ;)).
In the temples courtyard, the stalls were already arranged, waiting for the visitors:
Some were just making finishing touches:
You could've choose between pots and branches with flowers:
I couldn't carry a pot on the plane, so only bought one branch.
The visitors were walking between the stalls, comparing the merchandise. Since the plants were almost identical, I didn't saw any major differences in price.
I liked the sellers, standing in front of the stalls, holding pots, trying to convince the passers-by…
…but some visitors couldn't be convinced, not even by beautiful girls:
For me, the main attraction were the glass bells, furin, that in the breeze makes joyful sounds.
I photographed a few, under the smiling supervision of the sellers.
Similar article: Iriya Asagao Ichi (Morning Glory Fair)