After I wrote about the Japan Rail Pass prices and advantages, I received quite a lot of questions about particular situations, especially for smaller trips that don't include large distances.
Good questions indeed, because there are many situations when, because of the shorter time span or because of the area covered, the total cost of the train trips would be less than the corresponding JR Pass price.
But for these situations there are also some very good Japan Rail Pass alternatives!
During my first trips to Japan I used several of these smaller area passes and I found them very valuable, especially if you will travel for a number of days only in the Eastern or Western part of Japan.
Here are the most interesting Japan Rail Pass alternatives I considered or used until now. But please check them carefully, the price shouldn't be the only thing to look into when choosing a pass - there are some cases when they don't cover reserved seats or when the Shinkansen or bus lines are not included.
A big advantage is that, unlike the JR Pass, these passes can be bought in Japan (but only by foreign tourists, so have your passport with you), so you can decide to buy them during your trip…
The Japan Rail Pass:
7-day - 28,300 yen
14-day - 45,100 yen
21-day - 57,700 yen
The Japan Rail Pass alternatives:
Eastern Japan area:
JR East Pass [link]:
5-day - 20,000 yen
10-day - 32,000 yen
Flexible 4-day - 20,000 yen (any 4 days within one month from the start date)
JR Kanto Area Pass [link]:
Western Japan area:
JR West Pass Kansai area [link]:
1-day - 2,000 yen
2-day - 4,000 yen
3-day - 5,000 yen
4-day - 6,000 yen
JR West Pass Kansai wide area [link]:
JR West Pass Sanyo area [link]:
4-day - 20,000 yen
8-day - 30,000 yen
And let's not forget the today's photo: an image matching the today's theme: the JR East Shinkansen E4-series, photographed inside the Tokyo Station.
Click on photo for higher resolution: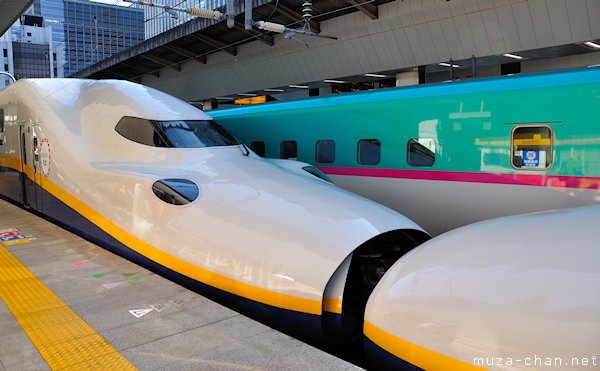 Shinkansen E4-series, Tokyo Station
If you want to license my photos for commercial use, please
contact me
EXIF Info:
| | |
| --- | --- |
| | Nikon D90 |
| | Lens: 18-70mm F/3.5-4.5G |
| | Focal Length: 18mm |
| | Aperture: F/5.6 |
| | Shutter Speed: 1/250s |
| | ISO Sensitivity: ISO 200 |
| | |
| --- | --- |
| | Yesterday's Japan Photo: |