I like Japanese festivals, Buddhist and Shinto alike, they transpose me into their magical world, with kami, supernatural beings and romantic stories, they make me see the world with child's eyes and enjoy simple things.
Perhaps the most romantic of all is the story about the two lovers, Hiko Boshi (Altair) and Orihime Boshi (Vega), who can meet only once a year, on the 7th day of the 7th month, at Tanabata.
The previous day, on 6th July, I went to the Asakusa Shrine, where the bamboo branch was already decorated with many wish notes (tanzaku), in different colors.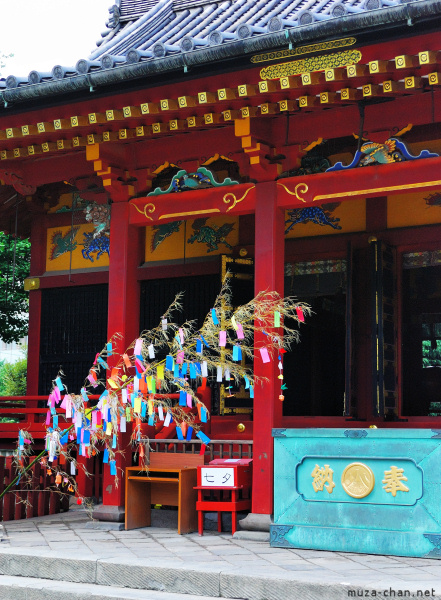 I don't know how it was at the end of the festival, probably loaded with tanzaku, I went to see it the next day but it was already shed on the Sumida river, as customary.

The same evening, I went for a stroll in Ginza and noticed that, at the entrance of some stores, there were bamboos with tanzaku.
The buildings in Ginza are built in western style, the streets are wide and square, just the commercial signs, shaped like nobori, vaguely reminds of Japan. There, the festival gave me the impression of fake, fabricated, commercial, just like the Easter bunny. At the Asakusa Shrine it was a totally different impression, it looked simple and nice, linked to desires and dreams waiting to be fulfilled, like many festivals in Japan.
On July 7, early in the morning, I went to the Tourist Information Center in Asakusa in search of information. A nice gentleman told me that besides the Asakusa Shrine, I must go to the Kappabashi-dori, to see the decorations.
I arrived at the arcade marking the commercial area and found the Tanabata banners.
Along the street, there were a lot of decorations made from plasticized paper, in happy, bright colors.
Few people were on the street, because it was still early, just some shop owners looking at the decorations.
The street animated a little, when the bus making the tourist tour of Asakusa passed.
I stopped in front of a store, next to a bamboo pot with tanzaku. On a small chair, carefully arranged, there was a little box with plastic cards for the wishes and some ball pens.
I stopped to take a picture and the shop owner went out of the store and showed me a tanzaku, explaining in Japanese and by signs that he wanted me to write a wish. I was thrilled, I immediately realized that I wanted to do this but I didn't dare.
I thanked him and wrote my wish on a green tanzaku. I already knew my wish, so I didn't need thinking time. He stood next to me until I finished, then he showed me how to put it on the tree. I thanked him again, he thanked me too and went smiling into the store.
On that moment, I was sure that my wish will be fulfilled, don't ask me why, I just felt it. By the way don't try to read it, I didn't photographed my wish…