115 years ago, in 1899, about 20 years before the opening of the first American fast food restaurant chain (A&W Restaurants), a man named Eikichi Matsuda was establishing a restaurant near the Edo Castle, in the Nihonbashi Fish Market.
He conducted his business according to a principle that later became the base of one of the most successful businesses in the world: easy to cook, cheap and tasty food. He named the restaurant Yoshinoya, after its birthplace, the town Yoshino from the Nara Prefecture.
Today, Yoshinoya is a huge chain, with more than 1,400 restaurants (some of them outside Japan) and the Yoshinoya specialty, the gyudon "beef bowl" became so popular that two other large chains are also making it: Matsuya (established in 1966) and Sukiya (established in 1982).
Click on photo for higher resolution: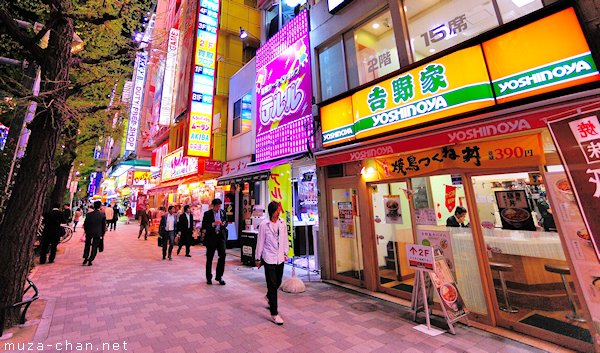 Yoshinoya, Akihabara, Tokyo
If you want to license my photos for commercial use, please
contact me
EXIF Info:
| | |
| --- | --- |
| | Nikon D700 |
| | Lens: 14mm F/2.8D |
| | Focal Length: 14mm |
| | Aperture: F/2.8 |
| | Shutter Speed: 1/200s |
| | ISO Sensitivity: ISO 640 |
| | |
| --- | --- |
| | Yesterday's Japan Photo: |