Today in Japan takes place one of my favorite celebrations, Hina Matsuri - the Doll Festival. Today, the families with young daughters are displaying a very special set of dolls (hina-ningyō), praying for their daughters to be healthy and happy. The Hina Matsuri doll set can be displayed starting at the middle of February, but according to the tradition, if the set is not wrapped at the end of the festival, the girls will marry late…
The Hina Matsuri dolls are exquisite works of art and, obviously, they are very expensive. Often the sets are passed from generation to generation, but there's also a custom to buy new sets: at the first Hina Matsuri celebration, a girl will receive her set from her family, parents and grandparents.
A full Hina Matsuri set includes many dolls, representing the Emperor, the Empress, two ministers, three court ladies, three samurai and musicians (five of them), plus a large number of miniature objects from the Imperial Palace (furniture, dishes, tools, orange and cherry trees), all these being displayed on a stand with five or seven levels.
A simpler set will include only the Emperor (Odairi-sama) and the Empress (Ohime-sama), sitting in front of a folding screen.
The dolls are dressed in costumes from the Heian Period: the Empress's costume is called juuni-hitoe (meaning "twelve layers robe"), being made from 12 pieces of silk garments - and the best Hina Matsuri dolls are wearing perfect replicas of the real robe. Actually, this type of ceremonial robe is still used at the Imperial Court on very special occasions (like weddings or at the enthronement ceremony).
I would like to show you today a Hina Matsuri doll set that I like very much, photographed in January inside the JR Asakusabashi Station.
Travel tip: If you want to admire the Hina Matsuri dolls, go to visit the stores located right next to the JR Asakusabashi Station in Tokyo. Reserve yourself a few hours, because these stores are absolutely spectacular, displaying hundreds of sets, with various styles, sizes and… prices - some of them reaching 1 million yen!
Related article: Hina Matsuri: Dolls and Deli
Click on photo for higher resolution: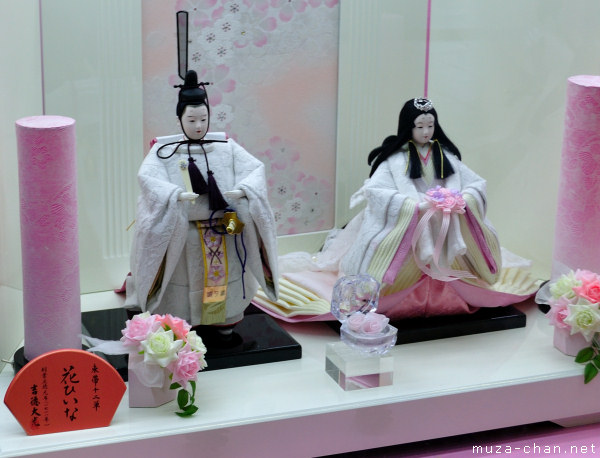 Hina Matsuri Dolls
If you want to license my photos for commercial use, please
contact me
EXIF Info:
| | |
| --- | --- |
| | Nikon D90 |
| | Lens: VR 18-55mm F/3.5-5.6G |
| | Focal Length: 26mm |
| | Aperture: F/5.6 |
| | Shutter Speed: 1/50s |
| | ISO Sensitivity: ISO 200 |
| | |
| --- | --- |
| | Yesterday's Japan Photo: |