I'm used to summer heat, I can handle high temperatures, but I'm from a zone with a lower humidity and the very humid summer from Japan makes me sweat more than usual.
The last year, photographing the Kumagaya Uchiwa Matsuri, I noticed a thermometer indicating 38°C (100°F)! But I think I handled it quite well… probably because of the large quantity of Pocari Sweat consumed… And, as you can see from this photo, I wasn't the only avid Pocari drinker. I noticed that it was the beverage of choice for almost every festival participant.
Pocari Sweat is a Japanese sports drink, launched 30 years ago by the Otsuka Pharmaceutical Co. Regarding the name, the Pocari part bears no particular meaning and was chosen only for its phonetic value - the producer said that Pocari "has a very light and nice tone". The Sweat part means the replacement of body fluids lost through perspiration. The resulting name sounds funny in English and I wonder if they will be able to launch it with this name in an English speaking country… From what I understand, for the moment Pocari Sweat is sold only in Japan and some Asian countries.
Regarding the taste… that's quite indescribable. All these minerals, sodium, magnesium, potassium, calcium are giving a soft-salty taste, combined with a citric flavor.
I can't say that I like it very much, but I can't say that I dislike it either. But it was good during summer heat and I'm looking forward to drink it again…
Click on photo for higher resolution: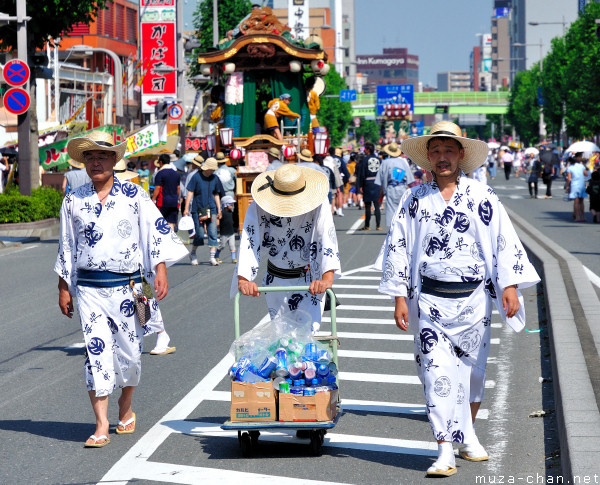 Kumagaya Uchiwa Matsuri, Kumagaya, Saitama
If you want to license my photos for commercial use, please
contact me
EXIF Info:
| | |
| --- | --- |
| | Nikon D90 |
| | Lens: VR 18-55mm F/3.5-5.6G |
| | Focal Length: 18mm |
| | Aperture: F/5.6 |
| | Shutter Speed: 1/50s |
| | ISO Sensitivity: ISO 200 |
| | |
| --- | --- |
| | Yesterday's Japan Photo: |