The first recorded earthquake in the history of Japan was the Hakuko Nankai earthquake, in the year 684, with an estimated magnitude of 8.0–8.4.
Having to face frequent powerful earthquakes, the Japanese researched and experimented various techniques to build earthquake resistant constructions. One of the results was the pagoda seismic design described yesterday.
Another impressive earthquake resistant design can be seen at the Tōshōgū Shrine in Nikko: the Torii Stone Gate (Ishidorii) is a very heavy structure, made of granite. In order to make it earthquake resistant, the builders made it very flexible and designed shock-absorbent pillars, made from two pieces of granite, joined at the middle. The transom (kasai-ishi) is even more flexible, made from 3 pieces, to allow free movement of the pillars. Overall, the gate is made of 15 pieces of stone!
That way, the gate resisted to all the earthquakes since its construction in 1618. After an earthquake in 1949, the joints were opened, but they slipped back in place after an aftershock.
A different gate built with a similar technique can be seen in Tokyo, at the Abika Shrine in Asakusa.
Click on photo for higher resolution: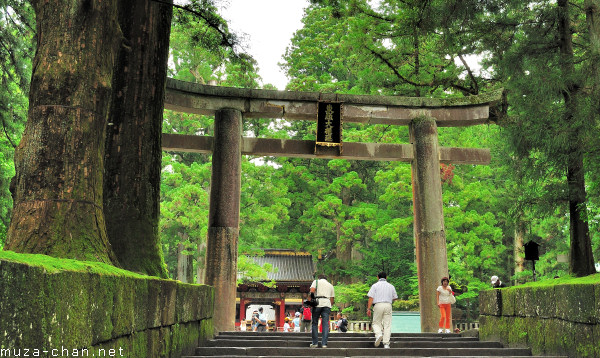 Torii Stone Gate, Ishidorii, Toshougu Shrine, Nikko
If you want to license my photos for commercial use, please
contact me
EXIF Info:
| | |
| --- | --- |
| | Nikon D90 |
| | Lens: VR 18-55mm F/3.5-5.6G |
| | Focal Length: 24mm |
| | Aperture: F/7.1 |
| | Shutter Speed: 1/60s |
| | ISO Sensitivity: ISO 200 |
| | |
| --- | --- |
| | Yesterday's Japan Photo: |