In Japan, the first documented use of buckwheat, soba in Japanese 「そば in hiragana or 蕎麦 in kanji」, dates back from the Nara period (710-794), when it was used as a "backup" harvest: because it grows very fast, soba can be harvested after only two months and a half, so it was a good alternative in case the rice harvests were insufficient.
But at the time, soba was used differently - the grains of soba were boiled and ate or dumplings were made from the flour - the first soba noodles appeared only around 1550, after people noticed that a small quantity of wheat flour added to the soba flour makes the dough elastic, good for making noodles…
Since it is very tasty but also because it was healthier to eat (due to its content of thiamine), during the Edo Period soba became popular and, besides the usual restaurants, soba was also sold by ambulant sellers. It is known that during the Edo period there were several thousands of soba noodle street stalls (soba yatai).
The first time I saw such a soba yatai was a museum piece at the Fukagawa Edo museum… But Japan managed to surprise and delight me again when, on the streets of Asakusa, I stumbled upon a real-life soba yatai ambulant seller. Exactly like in the Edo period!
I guess it was a rare sight though, because I could tell that many locals were also surprised by its appearance…
Click on photo for higher resolution: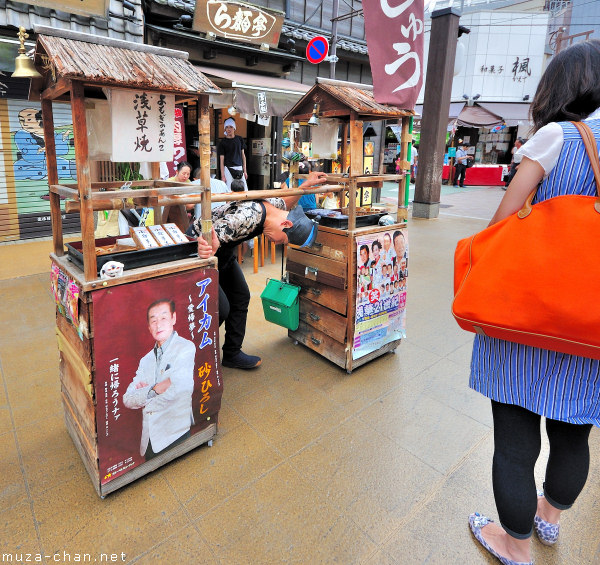 Soba Yatai - Japanese Edo style noodle portable vending stall in Asakusa, Tokyo
If you want to license my photos for commercial use, please
contact me
EXIF Info:
| | |
| --- | --- |
| | Nikon D90 |
| | Lens: 8-16mm F/4.5-5.6G |
| | Focal Length: 8mm |
| | Aperture: F/7.1 |
| | Shutter Speed: 1/60s |
| | ISO Sensitivity: ISO 200 |
| | |
| --- | --- |
| | Yesterday's Japan Photo: |