Used throughout the world since very early times, the hand fans were, in the beginning, rigid. The folding fan (sensu in Japanese) was invented sometimes between the 6th and the 9th century in Japan, from where it spread first to China and Korea and later to Europe.
The first folding fans were quite similar to the ones we use today, made of wooden strips connected with a metallic rivet and tied together with silk strings. Later, the Japanese craftsmen started using washi (Japanese paper) on a bamboo frame.
Used in Japan by both men and women, sensu is not only for cooling - it is also a fashionable accessory, a symbols of status or a ceremonial item. You will see it used in traditional dances, by Noh or Kabuki actors and even by Shinto priests.
The samurai warriors were also using folding fans with metallic outer ribs (gunsen or tessen) as unsuspecting weapons.
Today, the Japanese folding fans are some of the most popular souvenirs, being available in a huge variety of models and designs, as you can see in this specialized store from Higashiyama, Kyoto…
Click on photo for higher resolution: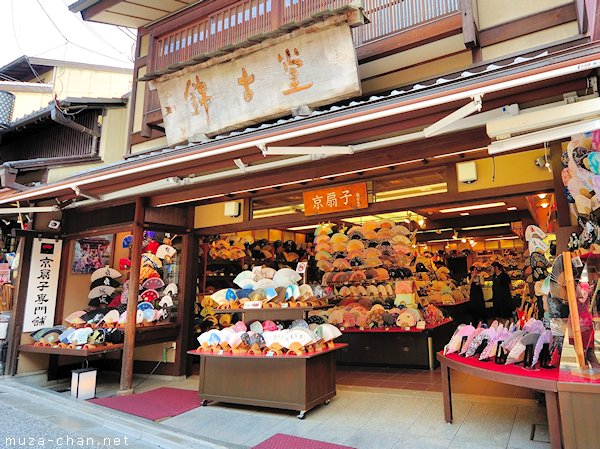 Higashiyama, Kyoto
If you want to license my photos for commercial use, please
contact me
EXIF Info:
| | |
| --- | --- |
| | Nikon D90 |
| | Lens: 8-16mm F/4.5-5.6G |
| | Focal Length: 8mm |
| | Aperture: F/5.6 |
| | Shutter Speed: 1/160s |
| | ISO Sensitivity: ISO 200 |
| | |
| --- | --- |
| | Yesterday's Japan Photo: |