Before entering to a chashitsu tea room, the visitor has to cross a small garden (roji). This garden includes a stone lantern, a small water basin (tsukubai), a few evergreen trees or shrubs and a path made of stones.
Called tobi-ishi ("stepping stones"), this path has a practical role (to avoid stepping in the dirt) but, as always in Japan, it also has an important ornamental role, so the stones are carefully selected, sometimes being brought from afar. The shape of the path is also designed so that walking on tobi-ishi will create to the visitor a feeling of peace right before entering the chashitsu…
Even the height of the stones is important, depending on the school this varying between 3 and 6 centimeters, and the first stones are always taller, as you can see from my photo, taken at a famous tea house from Tenryu-ji, Kyoto.
Click on photo for higher resolution: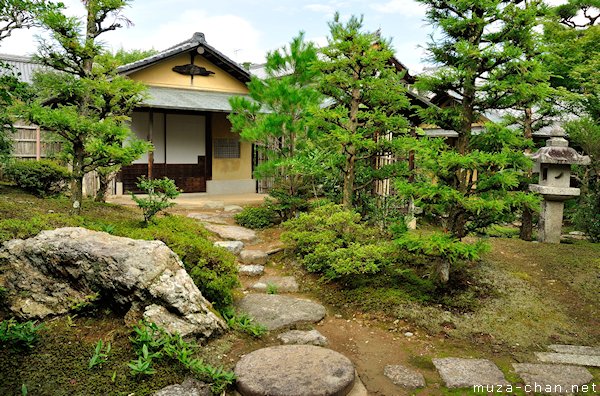 Chashitsu, Tenryu-ji Temple, Arashiyama, Kyoto
If you want to license my photos for commercial use, please
contact me
EXIF Info:
| | |
| --- | --- |
| | Nikon D90 |
| | Lens: VR 18-55mm F/3.5-5.6G |
| | Focal Length: 18mm |
| | Aperture: F/5.6 |
| | Shutter Speed: 1/320s |
| | ISO Sensitivity: ISO 200 |
| | |
| --- | --- |
| | Yesterday's Japan Photo: |