Hoichi was a blind, but very talented biwa player, living in a temple in Shimonoseki, not far from the site of the famous battle of Dan-no-ura, where the Heike clan was decisively defeated by the Genji. Here's his story:
One evening, when Hoichi was alone, a samurai came and hired him to perform the play about the battle of Dan-no-ura. After Hoichi played it, the samurai told him that he will hire him to perform for his lord during the next 6 nights. The samurai also said that he will be well rewarded, but insisted that he should keep it a secret.

However, during the next nights, Hoichi's absence was noticed by the temple's priest. The priest questioned him, but Hoichi kept the secret. Worried, the priest asked his servant to follow Hoichi, this learning that Hoichi was going to… the temple's cemetery, where the Heike clan samurai were buried.

After learning the truth Hoichi confessed, and so the priest realized that Hoichi was cursed and that the samurai was actually a ghost… For protection, the priest covered Hoichi's body with Buddhist sutras, instructing him to remain still and silent when the ghost will come again.

The next night, the ghost samurai came again, but because of the sutras, he couldn't see Hoichi anymore. However, the priest made a mistake and Hoichi's ears were left uncovered by sutras. Angered, the ghost cut both his ears, but Hoichi endured in silence, so the ghost finally left…
Hoichi remained known as Mimi-nashi-Hoichi, "Hoichi-the-earless"… And a statue of him is displayed at the location of the temple where he lived, inside the today's Akama Shrine, in Shimonoseki.
Click on photo for higher resolution: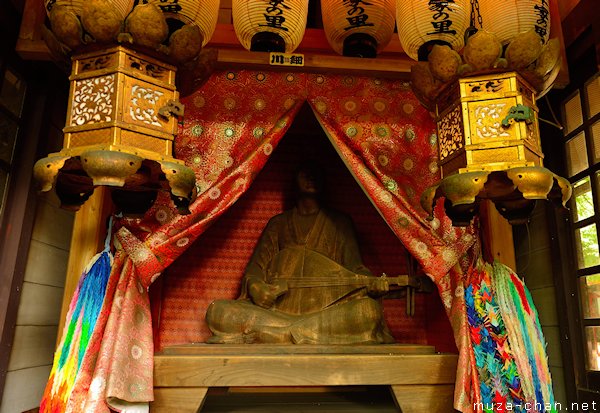 Hoichi-do, Akama Shrine, Shimonoseki
If you want to license my photos for commercial use, please
contact me
EXIF Info:
| | |
| --- | --- |
| | Nikon Df |
| | Lens: 24-70mm F/2.8G |
| | Focal Length: 24mm |
| | Aperture: F/5.6 |
| | Shutter Speed: 1/50s |
| | ISO Sensitivity: ISO 1600 |
| | |
| --- | --- |
| | Yesterday's Japan Photo: |