It's Friday 13… a good day for an old Japanese horror story… and what can be better than a beheaded samurai heads flying all across Japan.
Here's the story:
Taira no Masakado was a powerful samurai living in the Kantō region during the Heian period, a member Taira clan, descendant of the Emperor Kammu. In the year 939, Taira no Masakado rebelled against the government from Kyoto, and after conquering several Eastern Japan provinces, he proclaimed himself Shinnō (New Emperor).

Taira no Masakado

However, in 940 his troops were defeated in the Battle of Kojima (Shimōsa Province) and Masakado was killed, beheaded and the head was displayed in Kyoto.

But the legend says that his head flew by itself from Kyoto towards its home and landed in a fishermen village called Shibasaki. The fishermen, afraid that Masakado's spirit will become vengeful (which could have brought diseases and catastrophes), decided to raise a shrine to honor him, The Masakado-zuka.
Click on photo for higher resolution:

Masakado-zuka (Masakaso's Tomb), Otemachi, Chiyoda-ku, Tokyo
The shrine still exists today, on the same place where the fishermen built it! That place is in Tokyo, in today's Otemachi district, one of the most expensive land areas in the world:
Click on photo for higher resolution: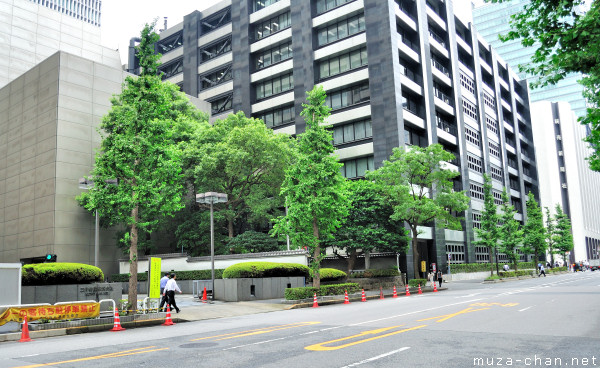 Masakado-zuka (Masakaso's Tomb), Otemachi, Chiyoda-ku, Tokyo