Japan is known as a traditionalist country, but even here, in time some traditional occupations disappear. One of them is the Japanese marching band, chindon'ya, street performers advertising shops or pachinko parlors, like in this picture taken in Shibuya.
Once very popular, now you can rarely meet them… It is known that the chindon'ya profession was started around 1845 by a candy seller from Osaka named Amekatsu. He had a powerful voice, backed by a noise making toy and he was wearing a large hat and small bells. In the beginning he advertised his own shop, but he was so successful that theaters and other shops started hiring him.
Today, a chindon'ya is comprised of 3 to 7 performers. Besides the traditional Japanese instruments like drums and shamisens, they use western instruments too (clarinets, trumpets or saxophones), playing tunes varying from traditional Japanese music to military marches or even jazz. Usually, the women are dressed like geishas and the men wear their hair in a top knot, in a traditional samurai style (chonmage).
From the band, two performers are the most important: oyakata, the one carrying the drums and a paper umbrella (in this photo) and hatamochi (or hatadori), the one handing out leaflets (the woman with the red umbrella, in the background of the photo):
Click on photo for higher resolution: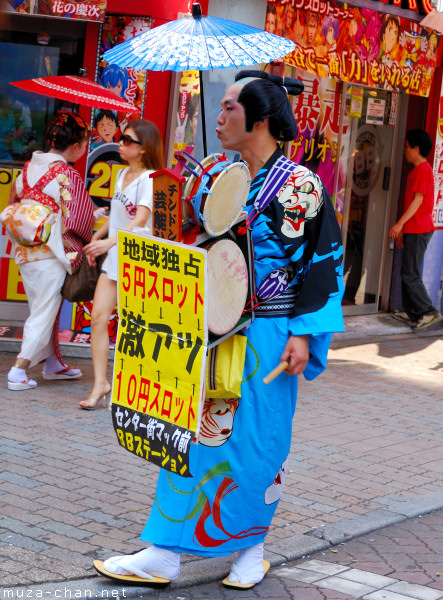 Japanese marching band Chindon'ya, Shibuya, Tokyo
If you want to license my photos for commercial use, please
contact me
EXIF Info:
| | |
| --- | --- |
| | Nikon D80 |
| | Lens: VR 18-55mm F/3.5-5.6G |
| | Focal Length: 40mm |
| | Aperture: F/5.6 |
| | Shutter Speed: 1/100s |
| | ISO Sensitivity: ISO 100 |
| | |
| --- | --- |
| | Yesterday's Japan Photo: |