Some slightly less known mascots from Tokyo, the Noppon Brothers are the mascots of Tokyo Tower.
They are twins, 2.23 meters tall and 11 years old (they were born on December 23 1998, on the 40th anniversary of Tokyo Tower). They enjoy sunbathing and they dream to become stars.

Of course, I bought myself a Noppon Brothers souvenir…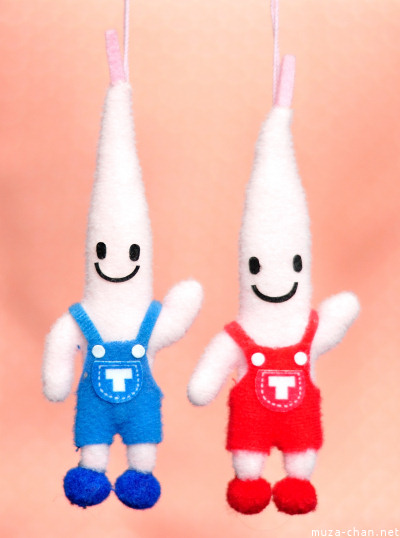 The one dressed in blue, considered the older brother, is described as silent, shy, but cool. The other one is cheerful but sometimes he feels lonely and needs people around him.
Actually, they both enjoy meeting people, posing for photos, receiving questions and shaking hand with the Tokyo Tower's visitors.
What they have to do with the Valentine's Day? Well, their biggest wish is to be loved by children and to receive from them a lot of chocolate bars on… Valentine's Day.

Usually, they can be found around the entrance to Tokyo Tower or in the roof garden of the Foot Town.
I didn't meet them on my visits, but here's what they look like: